The Standard In American Immaturity
Sign up for updates about Humorist Books! Get info about events, book launches, and publishing news!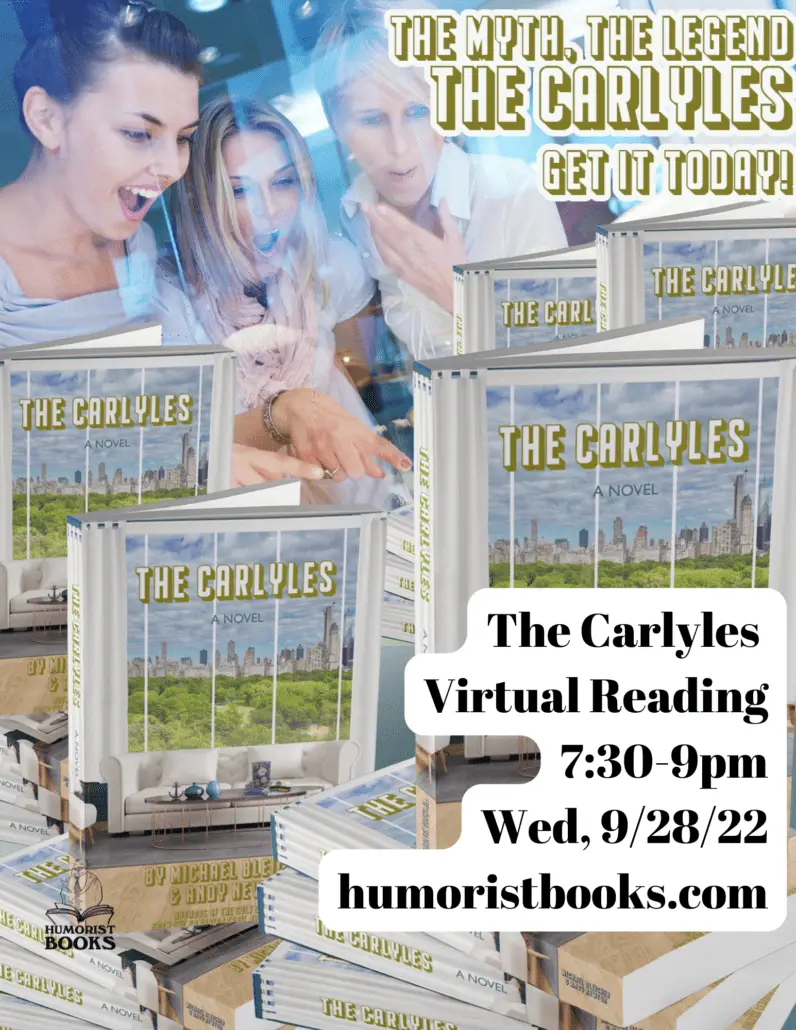 Santa's Brother Sandy
Author: Mike Reiss
Illustrated by: Jason Chatfield
---
When Santa's sleigh gets stuck in the wet sands of Bali, he must make a painful call for help, his beach bum little brother Sandy to save Christmas!
---
The Official Dream Dinner Party Handbook
Author: Gary Almeter
---
If you could have dinner with anyone, Living or Dead. Who do you pick? How do You choose? And how can it all go Terribly wrong? Full of helpful tips and profiles on a variety of figures, from Mother Theresa, to John Lennon, to Roseanne Barr, THE OFFICIAL DREAM DINNER PARTY HANDBOOK is a must-have guide for all your imaginary festivities.
---
The Carlyles
Authors: Michael Bleicher & Andy Newton
---
New York Times reporter Harold Carlyle has been on a rocket ride of success. Since publishing an explosive book on the Trump administration's collusion with Russia, he has become a fixture of primetime cable news. But he soon finds that fame has its challenges. His wife Pattie, a media critic turned NYU lecturer, has grown distant and increasingly paranoid from the scores of death threats her husband's book has garnered, and his literary agent, a bewitching Eastern European who seems to know everyone, is pressuring him to compete with his paper's star correspondent for White House gossip. As Harold tries to revive his marriage and secure a paperback run for his book, he and Pattie navigate politics, celebrity, espionage, sexual intrigue, elaborate falsehoods, questionable tech startups, I Love Lucy, Twitter feuds, New Age couples therapy techniques, and antique maritime tools in this satirical farce by the authors of From the Campaign Trail or Thereabouts.
Early praise for The Carlyles
"[A] devastatingly funny book, a towering work of satire and a condemnation of the seedy Trump years and cable news […] a tremendous and ambitious achievement of a novel." — Brian Boone, Vulture
"[V]ery, very funny […] insightful and sensitive […] teeming with unique observations and beautiful prose." — Gary Almeter, Kissing the Roadkill Back to Life
---
Polly Wants A Lawyer: Cartoons of Murder, Mayhem & Criminal Mischief
Author: Nick Downes
---
Cash Grab
Author: Andy Spain
Buddy Buppsen dreamed of working in television ever since he was a kid glued to the game shows on his foster parents' TV, but now, with a college degree of questionable value in hand, Buddy discovers that a dream job is still just that—a job. Part absurdist satire of the entertainment industry, part slacker's response to Atlas Shrugged, this debut comic novel by Andy Spain (McSweeney's Internet Tendency, Weekly Humorist, Points in Case) explores the nature of selling out, common decency, and dystopian workplace woes.
---
"If you're a show biz insider, this book will make you laugh and cringe in equal measure. If you're a show biz outsider, it'll make you happy to stay that way. Cash Grab is dark, funny, and will definitely piss some people off!"
-Bill Martin, writer and co-creator of The Unicorn and Grounded For Life, executive producer of 3rd Rock from the Sun
How to Be an Old Person: Everything to Know for the Newly Old, Retiring, Elderly, or Considering
Author: Brian Boone Illustrated by Marty Dundics
Congratulations! You made it! You're an Old Person! But entering into your golden years isn't all hard candy and unreserved flatulence. It takes skill and finesse, training and education, to become a proper Old Person. Fortunately, there's a guide—not in the form of some newfangled Facebook movie, but an honest-to-God, hold-it-in-your-wrinkly-withered-hands BOOK—that'll help you navigate the perilous and confusing new world of cootdom. Full of nifty diagrams, illustrations, and succinctly written so you don't forget what you're reading partway through, How to Be an Old Person, by Brian Boone (Vulture, Great Men of Science) will tell you all you need to know about this new season of life!
Greg Maxwell's Inferno: The Erotic, Judeo-Christian, Modern-Day Odyssey No One Asked For
Author: Keith James
Hell has come to claim the last mortal universe. A bleeding tower has burst through the 24-Hour Fitness parking lot. Demons circle the city of San Diego. One name is called to challenge Lucifer's Champion: Greg Maxwell.
Who is Greg Maxwell? Imagine the person you would want to fight for humanity's survival. Now think of the opposite person. Now think of that person's dad. Cocaine. Talking animals. Weekend trips to Cape Cod. Secret JFK sex videos. This is the erotic, Judeo-Christian, modern-day Odyssey no one asked for. This is Greg Maxwell's Inferno.
Curses for Christmas
Author & Illustrator: Brandon Hicks
Can our demons save Mary Anne from Christmas? Everybody's favorite malevolent mischief-makers return in this sure-to-be holiday classic by author and illustrator Brandon Hicks. When Mary Anne's fervent love of Christmas threatens to alienate her friends and family, demons Beezle, Buzzle, and Barb intervene to show Mary Anne how the holiday season "totally blows chunks." Will the demons three succeed in convincing Mary Anne that Christmas is nothing but a crass, commercialist holiday rife with hypocrisy, or will Mary Anne's stalwart devotion to all things yuletide win out, in this hilarious sequel to Seven Easy Steps to Go to Hell?
Seven Easy Steps To Go To Hell
Author & Illustrator: Brandon Hicks
What you see is not always the whole picture, as you'll learn on your journey to HELL!
Occupying the lowest rung on the demonic corporate ladder, Beezle, Buzzle, and Barb have the unenviable task of ensuring enough souls are going to Hell. Using their patented Seven Deadly Sins™ method, the trio explains how you can get yourself a one-way ticket. This beautifully illustrated book written and illustrated by acclaimed artist & cartoon editor Brandon Hicks.
Lyssa Strata: A Comedy for the Frustrated
Author: Martti Nelson
A small-town librarian finds her voice and kicks some misogynist butt in the process.
Inspired by the classical Greek comedy, Lysistrata, librarian Lyssa Strata has long begged the Town Council of Athena, Massachusetts to repeal its disgusting, old, misogynist, and racist laws, but the Council, an all-male entity for 400 years, has blown her off as a redheaded spinster-who, according to a 1673 law, should legally be run out of town at the end of a musket upon a poor fiscal year.
When Lyssa seeks to invade the male bastion as the first woman ever on the Council, the men in charge treat her candidacy as a hilarious joke; that is, until Lyssa leads the women of the town on a sex strike.
The Witch Demands a Retraction: Fairy Tale Reboots for Adults
Author: Melissa Balmain Illustrator: Ron Barrett
Pinocchio Runs for Office, The Peeved Piper, Not So Snow White and so many more in this twisted collection of adult fairy tales!
This hilarious collection of poems by Melissa Balmain puts a grown-up, contemporary spin on the stories and characters we all learned as children, from Little Red Riding Hood, to the Three Bears, the Pied Piper, and Cinderella; each delightfully depicted in full-color by Ron Barrett, (Cloudy with a Chance of Meatballs) one of the best and award winning illustrators in the business.
Early Praise for The Witch Demands a Retraction:
"If you're looking for the perfect bedtime poetry to send your little ones peacefully to dreamland, keep moving. In The Witch Demands a Retraction, Melissa Balmain's poetic retakes of classic fairytales, 'happy endings' means something else, and Mama Bear finds a clue in her bed that Goldilocks was not after the porridge. Witty, cringey, and hilarious. For every parent who wants a break from sincerity, and for every bad aunt or uncle looking for the perfect gift — this is your book." — Tom Bodett, author and NPR personality
"This is an extremely irresponsible book — imprudent, unconscionable, certain to emotionally scar impressionable children for life. I highly recommend it." — Gene Weingarten, syndicated humor columnist, The Washington Post
"Like Leopold and Loeb, Balmain and Barrett are a pair that will go down in history—not that I'm implying anything. It's just that when the right pair gets together at the right time, great things happen. And if a cousin or two had to die for this book? Totally worth it." — Michael Gerber, Publisher, The American Bystander
"Does anyone say, 'OH NO SHE DI-INT!' anymore? Because that will be your response to basically every poem in this treat of a book. Balmain turns every fairy tale on its head and shows us its panties, none the worse for wear. Just don't be drinking anything while you read, because these verses are a recipe for spit takes. Balmain has a warped mind and astonishing wit matched thoroughly by her warm heart. Come for the fart joke, stay for the sly and bawdy feminism."— Faith Salie, comedian, author, journalist, seen & heard on CBS, NPR & PBS
Title: The Witch Demands a Retraction: Fairy Tale Reboots for Adults
Author: Melissa Balmain
Illustrator: Ron Barrett
ISBN: 978-1-954158-06-1
Release date: 4/16/21
Genre: Humor
The # * % < ! + & Year in Review by Ron Hauge
2020 was hard. 2020 hindsight is easy!
We don't have to tell you what it was like. You were there. The pandemic, unemployment, civil unrest. Trump. More Trump. Maybe a little laughter could help. What have you got to lose?!
From Emmy® Award winner Ron Hauge (The Simpsons, Seinfeld, The Ren & Stimpy Show, In Living Color) comes 'The # * % < ! + & Year In Review', a retrospective collection of single-panel, full-color cartoons selected from his popular Instagram account. The year 2020 will not soon be forgotten, but perhaps we can gain a little perspective with these biting, often outrageous illustrations lampooning Trump, the pandemic, social unrest, the whole mess.
Dumb Jokes For Smart Folks by Jessica Delfino delivers a grown-up spin on the quintessential children's joke book. Chock-full of silly wordplay and looney leaps in logic, this collection touches on a variety of topics and themes, from the great outdoors, to celebrities, outer space, and recreational cannabis. Perfect for readers who wish to reconnect with their inner-child or anyone who enjoys a good guffaw- or groan-worthy joke.
How do you poach an egg? You just take it when the chicken isn't looking
What state is the most inquisitive? Why-oming
What do you get when you combine guacamole and bread? Avocadough
"Jessica Delfino is an awesome storyteller, performer, writer, and general raconteur. She's a hilarious, thought-provoking heroine of a defiant downtown NYC art world. She has blown me away every time I've seen her perform, and her tales are moving, strange, smart, funny, poignant, and beautiful. Read everything she writes, please." – Sara Benincasa, author of DC Trip and Real Artists Have Day Jobs 
"Jessica Delfino is a bright, bright light in dark times. And when times are good and Jessica is around forget it – you better put on some damn sunscreen pronto or you're gonna wind up in the hospital. – Dave Hill, comedian, WFMU host and author of Tasteful Nudes: …and Other Misguided Attempts at Personal Growth and Validation
"I've never known anyone as thoroughly dedicated to joy and silliness as Jessica Delfino. She's a workhorse, but instead of a horse, a unicorn." – Alex Baze, Head writer, Late Night with Seth Meyers 
"Jess was a one woman mixed media event before people knew that could be a thing!" – Colin Quinn
"She's a brilliant writer." –Wil Wheaton, WilWheaton.net
"Of all the literary greats, Jessica is my favorite. Jessica Delfino is the best writer to walk this planet! Wait, is it Jessica or Jennifer? How do I know you again?"– Jim Gaffigan, Comedian
Things can't get much worse—but can they get funnier. 
THE ELEMENTS OF STRESS and the Pursuit of Happy-ish in this Current Sh*tstorm is a humorous handbook to help readers better deal with the challenges and headaches of our times, from overeating, to love problems, money woes, global warming, night sweats, winter itch, general anxiety, and so much more. Plus, forty stress-defusing cartoons from two of the best gag cartoonists in the world will help readers handle all the anxiety in today's new world disorder––the perfect gift for fans of the original Elements of Style or anyone who has had it up to here.  
About the authors:
Bob Eckstein appears regularly in major publications as a humorist, cartoonist, award-winning illustrator, and New York Times bestselling author. He was nominated by the National Cartoon Society as Gag Cartoonist of the Year, twice, and selected in 2018 as the Erma Bombeck Humor Writer of the Month. He teaches Writing and Drawing at NYU.
http://bobeckstein.com
eckstein@pipeline.com 
FB: Bob Eckstein
Twitter: @BobEckstein
Instagram: Bob_Eckstein
Michael Shaw's cartoons have appeared in The New Yorker since 1999 and have a habit of going viral—appearing on an ABC news special following the World Trade Tower attack and on 60 Minutes as one of New Yorker cartoon editor Bob Mankoff's "top five favorites." Shaw's cartoon on The Charlie Hebdo shooting led to his appearance on Ronan Farrow Daily on MSNBC. His cartoons have appeared in The New Yorker Book of Literary Cartoons, The Complete Cartoons of The New Yorker, The Rejection Collection I and II, The New Yorker Encyclopedia of Cartoons, The Ultimate Cartoon Book series and in The St. Louis Post-Dispatch, Harvard Business Review and Prospect magazine.
shawtoons@hotmail.com
A Gaslight in the Attic is an expert satire of the Donald Trump presidency written from the perspective of the man himself!
The book parodies the Shel Silverstein classic "A Light in the Attic" with original poems chronicling Trumpisms, his lies and contradictions and the classic "look this way so you don't see that" gaslighting at its best!
The over 70 hilarious original poems include original Shel Silverstein-esque pen and ink illustrations to enjoy along with it! You will find Trump's thoughts on Melania, Ivanka and Jared, Joe Biden, Kim and Kanye, Kim Jong Un, Vladmir Putin, Bill Barr, Rudy Guiliani, his fellow Republicansand as Trump deems it, the "enemy of the people", the free press and many more!
Matt Lassen is a Brooklyn based cartoonist, comedy writer and illustrator. He has been a MAD Magazine contributor for over a decade and has been featured in Complex Magazine, BuzzFeed, USA Today, GoComics and the Huffington Post to name a few.
From the Campaign Trail or Thereabouts A Novel
by Michael Bleicher & Andy Newton
From the Campaign Trail or Thereabouts is the story of two insulated Upper West Side journalists, Harold Carlyle, a self-serving, incompetent reporter desperate to save both his career and marriage, and his wife, Pattie, an observant, sharp-tongued, and successful television critic. When Harold is assigned to cover the 2016 Presidential Election, he devises a scheme to save his marriage by taking Pattie with him across the country.
From the Campaign Trail or Thereabouts dives into the contradictory, divided, and all-too-often unsettling state of the union. Like Huck Finn meets Game Change, the novel examines the politicians and popular figures who played starring roles in 2016 and holds up a mirror to the electorate that ultimately made Trumpism possible.
---
Early Praise:
"Since real-life politics caught up to fictional politics in terms of absurdity and ridiculousness, it takes a talented comic mind to push satire to the next level. Or as is the case with Bleicher and Newton, two of them. From the Campaign Trail or Thereabouts is equal parts insightful, frightening, and totally hilarious."
—Brian Boone, Splitsider
If You Give The President A Twitter Account
by Matt Lassen
If You Give The President A Twitter Account. If the president is given a Twitter account he will say whatever he wants, if he say's whatever he wants the media will report it, if the media reports on it…Join the never-ending cycle of politics, 24 hour news cycles and talking head pundit's in this fun parody of the classic children's book where facts are facts and news is fake! Appearances by President Trump, Melania Trump, Mike Pence, Jared and Ivanka, Kellyanne Conway, Sarah Huckabee Sanders, Steven Miller, Anderson Cooper, Wolf Blitzer, Jake Tapper, Rachel Maddow, Chris Matthews, Stephen Colbert, Trevor Noah, Jimmy Kimmel, Morning Joe's Joe Scarborough, and Mika Brzezinski, plus Chuck Todd and a certain cookie loving mouse!