originals

Welcome, everyone! Thanks for coming down and taking time out of your busy schedules. I know everything is pretty crazy this time of year with the data coming in about Taylor's optimal panty line for swimsuit season.
It's been an exciting year for Taylor. Our fall quarter launch, Reputation, hit all our target numbers and continues to move steadily. Now, we wanted to address head-on these rumors that there's been a "dip" in sales compared to our Q3 2014 product. This could not be further from the truth. Comparing 1989 to Reputation—it's apples and oranges. Boutique market segmentation is the new trend for lifestyle brands, folks. In 2018 and into 2019, we're positioning Taylor as a premium product, which sets up her folk album in Q4 2020.
We're still hearing some grumblings about the brand refresh, specifically Taylor's platinum hair dye and the darker lipstick. Remember, boutique brands have more distinct personalities. Think of Lincoln versus Ford.
The lipstick is just teeing up future innovations. We've had our ops guys studying successful reinventions. Jeremy and Chuck in the Clifton Park office have been analyzing when Dylan went electric, for example, and they tell us he led with longer hair before he actually released product. Jeremy—can you hear us in Clifton? Just, raise your hand if you—oh, good. And of course, here in New York, creative have been working around the clock tracking what Beyoncé was doing three months ago.
We're pleased to announce that we have buy-in from most of our key stakeholders with regard to seeing Taylor's navel, with GE, Target, and Disney all indicating that they would sign off on top quarter exposure. Our focus group data tells us that this will play very well in our key demos of girls, 9-13, and overweight men Googling with safety search off, 35-50.
That said, we are trying to get the photos of her navel back from Jeff Zucker, so if someone could step up to take ownership of that. We don't want a situation where we're competing with ourselves, obviously.
Dennis and the rest of the Biz Dev team here have been exploring possible cross-promotional synergies, by way of Taylor's next reinvention. Prior numbers tell us that she should start a feud at the onset of Q4. To date, we've focus-grouped Selena Gomez, the Chainsmokers, and Michelle Obama. Now, when we re-calibrated the focus groups without the Charlottesville protesters, the clear winner was Selena, but we all remember what happened when Lady Gaga alienated her core demos with that Tony Bennett record.
Hey, here's an idea. Could Pepsi sponsor the feud? Dennis, can you put out a few feelers? Thanks, bud.
Of course, Taylor is also long overdue for a new relationship. Tom Hiddleston, as we know—not going to sugarcoat this—he was our Gigli. Kirk has been reassigned to our Nordic territories team, where he won't be making any more impactful decisions. Now, our B.E.A.R.D. committee has identified potential acquisition targets for Q4. If you flip to Appendix B in your handouts, you'll find a list of Marvel and Star Wars franchise movies planned for release in Q1 of the 2018-2019 fiscal year, organized alphabetically by male lead. And our London office has given us a list of pleasingly androgynous blonde men in their early thirties who are slated to audition for the next Broadway revival of a Neil Simon play.
Team, I know we have to get back to work preparing for her next breast enhancement, but before we break, we need to circle back on the message for Taylor's next round of press availability. As we know, feminism in Q4 2014 and vulnerability in Q1 2011 both played extremely well. Now, of course, it's important to keep in mind our potential growth markets when we blue-sky her next message. As a starting point, Biz Ops has suggested Xi Jinping, natural gas exploration, and casual sex.
Alright, thanks, everyone, for your time. We'll be sending out a survey later this afternoon to get your thoughts on today's event. Remember, Taylor's all about people!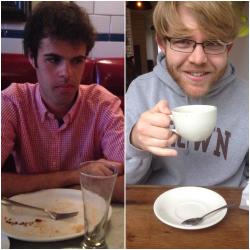 Michael Bleicher and Andy Newton are above-average in height and know the harmony parts to most Simon & Garfunkel songs. Andy is an editor in New York City and Michael is a copyright attorney in Washington, D.C.


https://weeklyhumorist.com/wp-content/uploads/2018/01/featured-image-template-swift.jpg
330
432
Michael Bleicher & Andy Newton
https://weeklyhumorist.com/wp-content/uploads/2018/04/WH-color-logo-pattern-b.png
Michael Bleicher & Andy Newton
2018-01-17 19:17:37
2018-01-17 19:17:37
Taylor Swift Q3 Town Hall Meeting