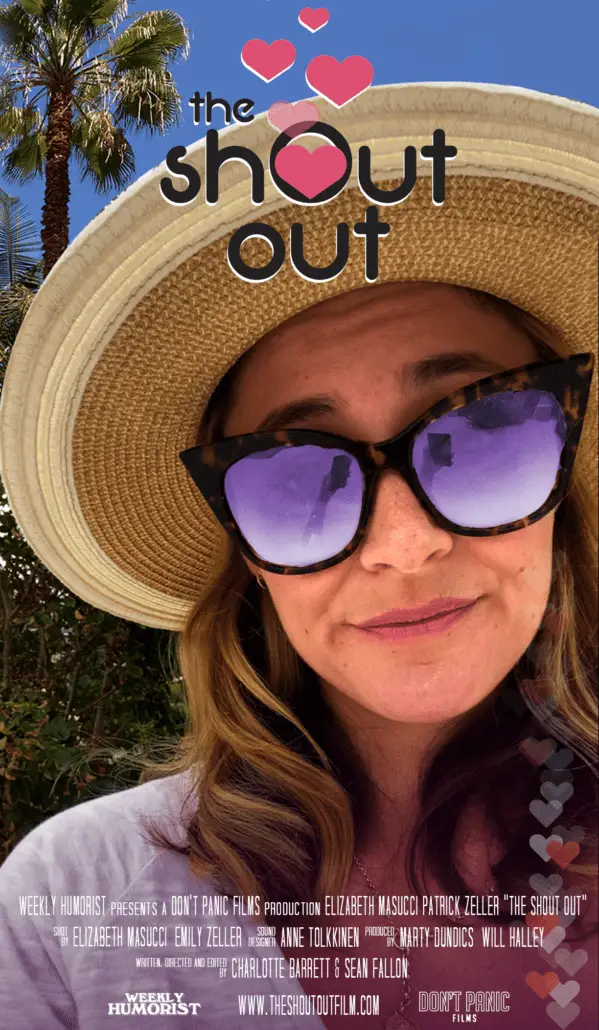 A Reality Star joins Cameo during quarantine and has a meltdown while recording a birthday message for a fan.
Writers, Directors, and Editors: Charlotte Barrett & Sean Fallon
Charlotte Barrett and Sean Fallon hail from Henderson, Nevada. They have been writing, directing and editing movies together since they met in their first film class at NYU's Tisch School of the Arts. Together they have made the award-winning feature, Virgin Alexander, and the short films Possibilities and A Bad Feeling, a comedy about Star Wars and miscarriage that starred Lily Rabe, Eric Ladin and Robert Picardo.
Producer: Will Halley
Hailing from Mobile, Alabama, Will began his career editing commercials after attending Full Sail University in Winter Park, FL. He subsequently spent a decade in advertising working with a variety of high profile clients. He has been working with Charlotte and Sean since meeting them on their first feature film, VIRGIN ALEXANDER in 2010.
Producer: Marty Dundics
Marty is the founder and CEO of Humorist Media, which publishes Weekly Humorist Magazine, humor book imprint Humorist Books, produces stand-up shows, Guaranteed Delivery, comedy podcasts, Talkward, and develops tv/film/streaming content through Humorist Studios. In the past Marty served as creative director and Editor-in-Chief of National Lampoon and worked at The Late Show with David Letterman.
Elizabeth Masucci (Cameron Kim Michaels)
Elizabeth Masucci is a NYC based actor, producer, writer and director. She started her career as an actor working on a number of TV & film productions. A couple are PUBLIC MORALS (TNT) produced by Steven Spielberg and Edward Burns and SHAME (Fox Searchlight) directed by Steve McQueen. She also starred in several theater productions; one being an Off Broadway production by Neil Labute entitled UNLIKElY JAPAN.
Behind the camera, Elizabeth recently co-produced a feature film, THE GOD COMMITTEE starring  Kelsey Grammer and Julia Stiles, which got accepted to the Tribeca Film Festival 2020.  She started her own production company with a colleague called In The Meantime Productions in which she produces her own TV & film projects, one of which is a dark comedy TV series about women suffering from Perinatal Mood & Anxiety Disorders. She also just shot the short film, The Shout Out, directed by Charlotte Barrett and Sean Fallon on her iPhone during quarantine.
Patrick Zeller (Chad)
Patrick Zeller's feature film credits include No Reservations with Catherine Zeta-Jones and directed by Scott Hicks; Indie Comedy, Virgin Alexander, (Grand Jury Prize Winner of the Las Vegas International Film Festival and the Washington DC Independent Film Festival.) and End of the Spear, (Winner of the Grand Prize for a Dramatic Feature at the Heartland Film Festival.) In 2018 he starred in Say Yes, with Alexandra Paul and Shari Belafonte. He also stars in Just One More Kiss, written and directed by Faleena Hopkins for which he won Best Actor at the Aphrodite Film Awards. Network television appearances include Law and Order, Kidnapped and The Young and the Restless. Patrick also co-wrote and starred in Packed, a web series following a group of lonely dads connecting over a social media app called WulfPak.