Originals

It may be the biggest decision in your life. If it is, consider yourself very lucky. Nevertheless, you should learn about the basic procedures to better prepare yourself for the sometimes long and emotional process of symbolically adopting an elephant from the initial decision to receiving the good news you are a symbolic parent and telling your loved ones that this is most you can muster up.
You will first want to decide if symbolically adopting an elephant is right for you. Do you want to make a difference without actually really doing anything? Is the idea of volunteering and working with needy people repulsive to you? Is the idea of adopting a human out of the realm of possibility? For many the thought of ever having a real conversation with your son or daughter about having been adopted is terrifying. You will never have to worry about that with an elephant.
Only you know–not your spouse, your parents, your sister, your doctor or your best friend–how not ready you are to be a parent or even the owner of a pet or houseplant. Then maybe adopting an elephant, symbolically, is the right choice for you. This may be the best you can do.
Of course, you have questions:
---
"Do I get to choose the elephant I adopt?" To protect the elephant, the parents are not allowed contact with their adopted mammal. This includes email. This is why, legally, it's called symbolically adopting an elephant. If one adoptive parent visits their elephant then everyone will want to have contact with their elephant. It's a slippery slope.
"Is symbolically adopting an elephant free?" No, but it is still far cheaper than raising a child or getting a dog. 
"Do I get to name my symbolically adopted elephant?" For many this is the most fun part of symbolically adopting an elephant. Or having a baby. And like babies, do remember that your elephant will be stuck with his or her name for life and others in the wild or workplace can be cruel with nicknames. Which is why we ask parents to give this part some thought and not go with the standard Jumbo, Dumbo or worse, Topsy. It will save everyone a lot of trouble later on in the elephant's adult life if your symbolically adopted elephant should ever wants to open a bank account or go to art school, a proper name like Rebecca Peterson or Chester J. Hendelman could prove instrumental in his or her's advancement. This all may sound ridiculous now. But who knows in twenty years from now how much an elephant's intelligence will develop. Elephants in India today are painting self-portraits. Who would have guessed twenty years ago there would be an adoption agency set up for elephants? Please don't make a joke out of naming your elephant.
"What if, like so many other things I was unable to commit to, I change my mind after a week or two?" Unlike real–life situations, symbolically adopting an elephant allows one to drop the ball or simply lose interest for up until one year once the consent forms are filed. Many even just forget they have symbolically adopted an elephant at all depending on one's lifestyle.
"I'm confident I'm ready, how do I proceed?" All states require adoptive parents to undergo an investigation to make sure that they are fit to symbolically adopt an elephant. This home study will investigate your financial stability and mental state. A special symbolic adoption court will make the final decision. Hiring a lawyer is not necessary but if you do, make sure it's not a symbolic lawyer.
If all goes well, you can symbolically adopt your elephant within six months. Confirmation will bring great joy to you. However, it is common for other's reactions to fall short of what you want or expect. This is normal. It may even take courage to adjust during this awkward period to the dismay or mocking you receive from friends and family. Understand that this will change in time, and you may even learn that others around you are jealous and also want to symbolically adopt an elephant.
Symbolically loving and caring for an elephant is a special gift that only one with $95 can enjoy. And remember not everyone is an elephant person. You may over time decide to instead symbolically adopt a tiger or other mammal. The main thing is that whatever it is you decide to love, it's halfway across the world from you.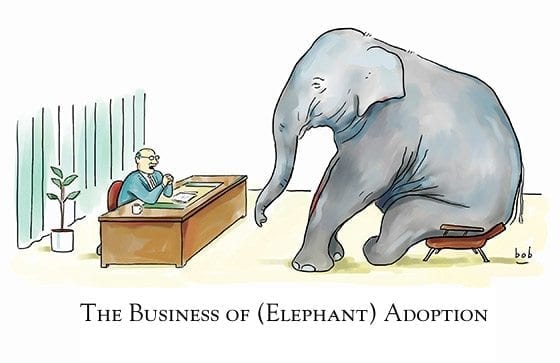 https://weeklyhumorist.com/wp-content/uploads/2016/06/featured-image-template-NL-elephant-adopt.jpg
330
432
Bob Eckstein
https://weeklyhumorist.com/wp-content/uploads/2018/04/WH-color-logo-pattern-b.png
Bob Eckstein
2016-06-01 21:30:35
2016-06-02 23:52:20
So You're Thinking of Symbolically Adopting an Elephant