Originals

DTH (Deck The Halls) with Santa Claus 
An unfiltered and unapologetic Marc Maron rip-off wherein the big guy sits down in his garage at the "Fat Ranch," with all the celebrities that Santa held grudges against in the '80s and '90s. He doesn't pull any punches as he asks them the tough questions, like what their parents were like, before relating everything back to his own struggle with addiction to milk and cookies.
---
My Favorite Myrrh-der 
The three boisterous Wisemen, Melchior, Caspar and Balthazar, discuss cold-cases of biblical proportions, all while being regular cut-ups on this twice-weekly show. Reading verbatim from sketchy subreddits and the first Bing search result that comes up, these three go deep on some of the most notorious smitings from before the common era, of which a surprising amount involve throwing loose rocks. You'll love their famous catchphrase: "Stay repentant and don't get smote."
---
Call Him Frosty
A podcast so steamy that it threatens to melt its very host, Call Him Frosty is a relationship advice show hosted by your favorite magical snowman. From parading around town in only a magic hat, to doing the thumpety-thump-thump, there is no topic too raunchy for old Frosty, who puffs his corn cob pipe on-air through each provocative detail. With his intimate knowledge of the human body, you'll start to wonder why Professor Hinkle continues to bring him to life each year with such verisimilitude. Check out next week's scandalous interview with Lisa Lampanelli.
---
Yukon Cornelius Needs Some Gold
Conan may need a friend, but Yukon needs some gold. Everyone's favorite ineffectual red-haired prospector is making a desperate cash-grab, transitioning from the dying business of wandering around the arctic in search of peppermint, to the somehow less lucrative business of podcasting. In interviewing different misfit toys, Cornelius brings his signature self-effacement, constantly poking fun at his beady eyes and awkward personality. It's funny for sure, but sometimes, the premise feels thin. Listen to Yukon belittle his sound engineers while talking about working on various episodes of The Simpsons, every Thursday.
---
Missing: An Elf On The Shelf Podcast
On December 17th of 2018, Carl Muscott placed his daughter's Elf on the Shelf atop her dresser in hopes that she'd spot it first thing in the morning. Only she didn't because when she woke up, it wasn't there, gone without so much as a trace of tinsel. This investigatory podcast talks to those closest to the events in hopes of finding out what truly happened on that fateful night. You and your friends will have a blast arguing over whether it was snatched by the daughter's deadbeat friend, buried by the step-mom's chihuahua, or if maybe — the Elf and the dad were in on it the whole time. Equal parts frightening and festive, Missing: An Elf On The Shelf Podcast goes to dark corners of elf-culture, diving deeper than any true crime elf podcast has before.
---
The Ben Shapiro & Grinch Show
Are you tired of all of Cindy Lou Who's liberal propaganda? Is the Whoville lame-stream media trying to force its socialist ideas down your throat? Sick of Mayor Augustus May Who and the other sheeple in power telling you how to run your herd? Then look no further than the closest thing to a war crime ever recorded, The Ben Shapiro & Grinch Show. This daily podcast has two of the most small-hearted and least-educated people ever given a platform, scowling at the idea of different cultures from a dark ugly cave at the top of a mountain. Is what they say accurate? Almost never. Is it entertaining? Nope. Do they have a massive following? You bet they do!
---
The Workshop Ladies 
Zooey Deschanel and Mary Steenburgen explore their roles as Jovie and Emily in the 2003 holiday classic Elf, sharing scintillating behind-the-scenes stories from filming that everyone probably would have already assumed. Each week, they read a summary of the plot of the movie — from Wikipedia — and then share fun facts about whether or not their lines were improvised — they weren't! But the real syrup on top of the spaghetti, so to speak, is how they sometimes will play a voicemail from Peter Dinklage, although it is always the same voicemail, and it is from 2002 and it has to do with a parking dispute.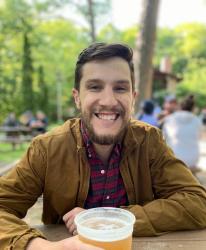 Adam Dietz is a writer and the host of the Home Improvement (the sitcom) podcast "Home Impodcast." His work has been featured in McSweeney's Internet Tendency, Slackjaw, and The Art of Autism. He lives in Milwaukee with his partner and their two cats.


https://weeklyhumorist.com/wp-content/uploads/2021/12/ben-grinch-feat.png
330
432
Adam Dietz
https://weeklyhumorist.com/wp-content/uploads/2018/04/WH-color-logo-pattern-b.png
Adam Dietz
2021-12-23 21:58:27
2021-12-23 21:58:27
Introducing The North Pole Podcast Network