originals

Hello ladies.  Are you 40?  
Single? Married? Divorced?
Overworked? Unemployed? 
Bumping against the glass ceiling?
Whatever your drama, we can help you escape.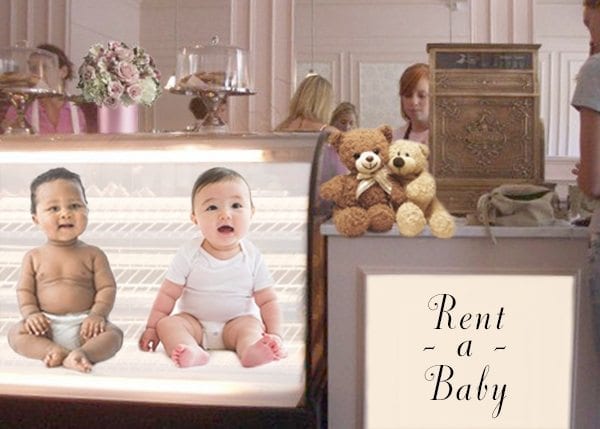 Meet Xavier, Raoul, Xintao, and Unguru.  These handsome little devils are available for companionship.  At a very reasonable rate.  
They don't talk back, they don't make you worry, they don't ask questions.  All they do… is love.   Why? Because they're babies.  And you're 40.  
And we're… Rent-A-Baby.
Don't you want to hold a baby. Smell a baby.  Rock that baby while he or she snuggles right in and makes you feel that you're needed and capable and human? 
In some small, finite, rentable way.
These little cooing warm balls of soft, smooth, love have no agenda… except wanting to be held. By you. By the minute.  By the hour.  Or for a whole weekend away.
Our babies are clean, well-rested, and well-behaved.  If they're not, well, their birth mothers remain in a holding cell while we fight immigration reform.
At Rent-A-Baby, everyone – no matter their race, color, creed, or income level – is worthy of love…  if they're babies..
And fellas over 40, don't let your emptiness go unfulfilled.  In addition to our traditional Ferrari Rogaine Viagra package, we now offer a weekend of fist-bumping with black athletes, and a letter from your dad telling you how proud of you he is.
And, for platinum members, a list of ALL the women who rented our babies.
Rent-A-Baby.  There, there.  There, there.  Shhhhhhhhh…

'The Final Edition' was created by legendary satirist Tony Hendra (Spinal Tap, original editor of National Lampoon, SPY) and comic/author Jeff Kreisler.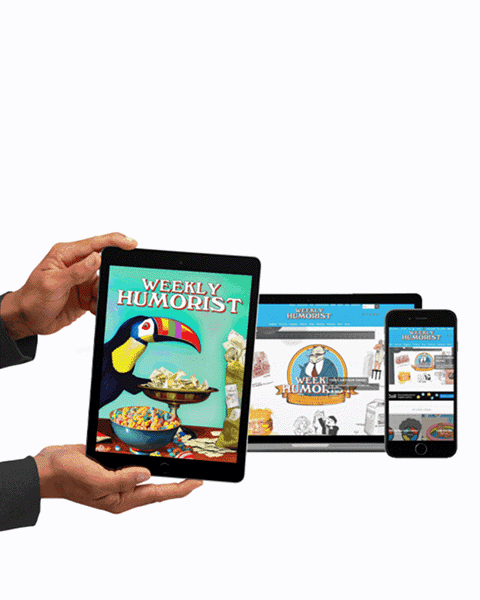 https://weeklyhumorist.com/wp-content/uploads/2015/11/featured-image-template-NL-rent-a-baby.jpg
330
432
The Final Edition
https://weeklyhumorist.com/wp-content/uploads/2018/04/WH-color-logo-pattern-b.png
The Final Edition
2015-11-04 21:22:01
2015-11-04 21:22:01
Rent-A-Baby