Originals

Commentary Tracks
Director's Commentary Rian Johnson sits down to discuss the making of The Last Jedi.
A Director's Rebuttal Rian Johnson sits down with a list of fan complaints and defends his artistic choices for each scene of the film.
Laura Dern's Foley Track With traditional sound effects removed, Laura Dern (Vice Admiral Holdo) provides the "pews" for every laser blast in the film.

 

Lockheed Martin Presents An Arms Dealer Commentary Within The Last Jedi, arms dealers are depicted as a bunch of rich snobs with their own gambling planet. They make their money by profiting off both the First Order and the Resistance, refusing to pick a side but all too happy to watch the war go down. In this commentary track, you'll hear from a real-life arms dealer as he makes the case that arms dealers are just regular working class citizens, job creators and anything but war profiteers. He'll also tell you how he thought the story should have gone.
Alternate/Deleted Scenes:
Porg Cantina Everyone loves the Porgs, but what do they do when Luke isn't around? Get a glimpse inside the Porg Cantina, home to low stakes gambling, fighting and break dancing!
The Shirtless Kylo Cut Thanks to Star Wars' incredible digital effects team, Kylo's shirt has been digitally removed from every scene in the film.
Snoke's Story In this fifteen minute deleted scene, Snoke informs Rey that he was the sole youngling to survive slaughter at the hands of Anakin Skywalker. During an extended extreme close up, Snoke weeps as he remembers being ridiculed for his hideous deformity before confessing to the brutal murders of those who mocked them. "I killed them all of course" he belches out as if it were a horrible secret he had managed to hide while rising to power.

 

Yoda Drinks Up Shortly after setting fire to The Sacred Jedi Texts, Yoda suckles on the teat of a thala-siren, proving that even ghosts can enjoy a little green milk.
Real Luke Many were upset to discover that Luke Skywalker had projected himself onto the battlefield at the end of the movie. In this alternate version, Luke shows up in person but is immediately eviscerated by cannon fire.

 
Behind The Scenes Featurettes
Making the Milk Star Wars' lead creature designer, Neal Scanlan explains how they made the thala-siren's green milk and teaches you how to make some milk of your very own.
Creating Crait A before and after look at practical effects as The Last Jedi's scenic team literally salts the earth of California's most beautiful countryside to create the salt planet from the film's final standoff.
Let The Past Die George Lucas himself explains what would have happened in The Last Jedi if he still had control of the franchise. He talks at length about midichlorians and paints a world in which Luke Skywalker is gleefully training the next generation of Jedi, including Ben Solo. Though many trainees find his star pupil, Ben Solo, to be impulsive and immature, Luke gifts Ben with an amazing technicolor dream-coat, which Ben cherishes with all his heart as he vows to never to turn to the dark side.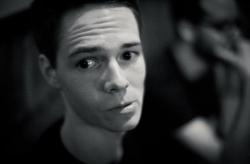 Kevin Cole is a comedy writer and satirist working out of Frederick, MD. He is the founder of The Annual, a different comedy website and most recently wrote the play Great Again which was performed at the Maryland Ensemble Theatre before it was plagiarized by reality. You can find his tweets @KevinDotCole.


https://weeklyhumorist.com/wp-content/uploads/2018/03/featured-image-template-porg.jpg
330
432
Kevin Cole
https://weeklyhumorist.com/wp-content/uploads/2018/04/WH-color-logo-pattern-b.png
Kevin Cole
2018-03-22 14:44:00
2018-03-22 14:50:49
Star Wars The Last Jedi Blu-ray Bonus Features