originals

Hello Chopped fans, concerned citizens, and law enforcement officers.  My name is Ted Allen, host of Chopped! As you can imagine, Food Network has been inundated with complaints after the mystery basket in the Entree Round from our latest episode featured meat from our recently deceased Production Assistant, Danny Higgins. (It also included black garlic, pineapple, and Pop Rocks.)  I would like to take this opportunity to clarify a few things and explain what happened.
Allegations that we murdered our Production Assistant for the purposes of obtaining a unique mystery basket ingredient are absolutely false.  Danny died of natural causes while crossing the street on a coffee run. In the darkest of times it is always helpful to look for the light, and we chose to make the best of this tragedy by ensuring that our Production Assistant didn't die in vain.
Chopped has always been a show that pushes competitive cooking to the limits and we have prided ourselves on exploring and breaking culinary boundaries.  However, I recognize that featuring Production Assistant meat has been distressing to many viewers, particularly the family members of Danny Higgins who learned of his passing while watching this episode.  I also recognize that cooking a person has proven to be traumatic for our contestants, and that consuming human flesh was a disturbing experience for two out of three judges. I want to personally apologize for any discomfort that this episode caused.
Having said that, I think it's worth noting that our contestants created several commendable dishes which showed marvelous ingenuity in the kitchen.  Chef Donald O'Reilly impressed everyone with his Pineapple Production Assistant tartare with Pop Rocks & black garlic infused aioli. Judge Marc Murphy described the flavors as "perfectly balanced" and stated that the tartare was "to die for".  Judge Aarón Sanchez and Judge Scott Conant even admitted that the meat was "better than expected" despite the fact that they strenuously objected to committing cannibal acts. And who can forget Chef Amanda Sigfried's revolutionary Curried Production Assistant Chowder?   Marc Murphy declared it was the "best human-based curry" he'd ever tasted! Aarón and Scott were too inconsolable to speak, but viewers will note that they ate a significant portion of their plates, and actions speak louder than words.
Of course, everyone agreed that many missteps were made with Chef Robert Cobalt's poorly seasoned Production Assistant Parmigiana.  The Pop Rocks failed to merge with the tomato sauce and the Production Assistant meat was overcooked. Plus, his plating aesthetics were undeniably bland.  For these reasons, he had to be chopped.
New foods can initially be a little scary or intimidating.  I myself was a little skeptical when it came to eating a Production Assistant, but I overcame my hesitation and embraced the creative culinary zeal that Chopped is famed for.  The first two dishes were delicious! In fact, I've had a craving for Production Assistant flesh ever since. I don't know how I'll obtain more, but I will. I have to. I must.

On an unrelated matter, the Chopped team is currently hiring new Production Assistants.  Candidates should have some prior experience on a television set and weigh a minimum of 185lbs.
Thank you,

Ted Allen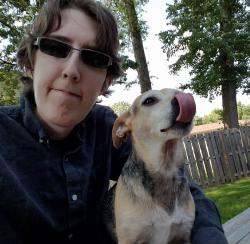 Rick McDermott is a comedy writer from Jersey City, NJ. His writing has also appeared on Points in Case, Robot Butt, and The Higgs Weldon. His extensive comedy training has taught him that the third line of his bio should be a joke.


https://weeklyhumorist.com/wp-content/uploads/2018/03/featured-image-template-chopped.jpg
330
432
Rick McDermott
https://weeklyhumorist.com/wp-content/uploads/2018/04/WH-color-logo-pattern-b.png
Rick McDermott
2018-03-30 17:11:33
2018-03-30 17:11:33
Yes, We Used Production Assistant Meat as a Mystery Basket Ingredient on "Chopped"