originals

Local TV evening six o'clock newscast
INT. TV NEW DESK, LIGHTS, CAMERAS, CORDS.  ANCHORS SITTING BEHIND DESK. BACKDROP OF CITYSCAPE BEHIND THEM WITH 'ACTION NEWS' LOGO.
---
BRYCE ATWOOD
Good evening, I'm Bryce Atwood…
CHERYL ENGLISH
And I'm Cheryl English…
BOTH
And this is the Channel 11 Six O'clock news.
BRYCE ATWOOD
Secret Security agents were on high alert this morning, when a very dirty and disheveled homeless woman staggered too close to the fence surrounding The White House, and began raving loudly and in a distressed fashion about something called "alternative facts".    She was subdued by agents, who were forced to use several full-powered taser guns in order to keep the woman calm.    She was then heavily sedated, and taken to a local high security hospital for the criminally insane, where she will most likely spend the remainder of her days.
CHERYL ENGLISH
My goodness, that's terrible!   Well, in better news, President Sanders has declared every Wednesday to be Free Ice Cream Day.   You don't have to do anything, just sit at your home and wait for the free ice cream, which will be arriving shortly.     Those of you who are lactose intolerant will receive a back rub and bag of peanut M&Ms.
BRYCE ATWOOD
He's really something, isn't he?
On a sadder note, Presidential nominee Donald Trump is still missing, following his election loss eight months ago.   Despondent over the results of the election, the former reality tv show host and purported worthless piece of crap sought solace in his travels to a relatively uninhabited island in the south pacific.    According to reports of radio messages received by the Coast Guard, Trump and his family were kidnapped by a tribe of island dwellers, who as it turn out perform a wide variety of rituals involving urine.    Trump convinced the tribe to set his family free, but decided to stay himself.    The last reports we have received are that Trump was tossed down a volcano after attempting to become king of the island.
CHERYL ENGLISH
Aw, well isn't that sad?
In other news, folks can't seem to stop talking about The Wall.
BRYCE ATWOOD
That's right, Cheryl.    President Sanders has decided to make several improvements to the already impressive Veterans' Wall of Honor in McDonough, Georgia.    Plans are already underway to add several canopies, as well as at least a dozen outdoor heat generators and food trucks that sell healthy but delicious snacks.
CHERYL ENGLISH
Wow!   What a guy!    I mean, holy smokes!    Whoops, sorry Bryce!
BRYCE ATWOOD
That's alright, Cheryl…  I'm sure that our viewers are nodding their heads in agreement as they enjoy their complimentary ice cream.
And hey, look!   It's Albert with the weather!
ALBERT
Hey guys, how's it going?   Well, as per usual, things are looking pretty good out there.    Ever since steps have been taken to stem the tide of global warming, the weather just seems to get better and better.    As with the rest of the country, it's now 74 degrees, with clear blue skies and a light, pleasant breeze.    Take that free ice cream outside, folks!
CHERYL ENGLISH
Thanks Albert!   Another great report!
BRYCE ATWOOD
Okay folks, we'll be right back with an update on that story about the NRA, who have decided to make some changes to their organization, moving from the National Rifle Association to National Recipe Authenticators.    With gun laws more sound and reasonable than ever, the members of the NRA have decided to devote their time to ensure that the recipes that delight your family are as accurate, tasty and healthy as possible!    See you back here in just a few minutes!
---
Dramatic news closing music.
End.
LISTEN TO THIS ARTICLE!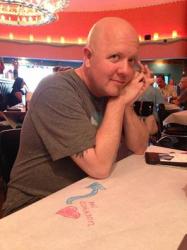 Kit has been a regular contributor to MAD magazine for over ten years, and has also been regularly published by National Lampoon, Playboy, The American Bystander, Funny Or Die, SpongeBob Squarepants Comics, Points In Case and many others. His work has been called "sort of like 'The Far Side', but more offbeat and often much funnier" by people who should clearly know better. He lives with his wife and two dogs, all of whom do their best to tolerate his presence


https://weeklyhumorist.com/wp-content/uploads/2017/05/featured-image-template-newscast.jpg
330
432
Kit Lively
https://weeklyhumorist.com/wp-content/uploads/2018/04/WH-color-logo-pattern-b.png
Kit Lively
2018-06-03 18:04:49
2018-06-25 13:57:43
TV Newscast from Bizarro World