Originals

If the last 15 months have taught us anything, it's the importance of family, which is why the team at Big Dave's XXL American Buffet wanted to reach out to you, our loyalty rewards members, The Plate Posse, to let you know of some exciting new changes coming over the next few months. In preparation for our grand reopening, we're introducing a whole new look and feel that we know you're going to love.
We've changed our name
Call it a rebrand. Call it a reimagining. Call it whatever you want, but as of June 1st, Big Dave's XXL American Buffet will be known simply as "David's Bistro." While we felt our previous name did serve as an apt description of what the consumer could expect upon entering our restaurant, we feel it no longer reflects who we are as an establishment. But don't let the name change fool you, we're still serving up the same quality "grub" at reasonable midwestern prices.
We've raised our prices
So maybe not as reasonable of prices, but close! Long gone are the days of our $1.99 all-you-can-eat scrambled eggs buffet or our afternoon ribfest, where patrons could eat as many ribs as they wanted for whatever they had in their pocket. We decided that that business model no longer really made sense for us, if it ever really did at all. Expect to pay a little more moving forward, but know that your hard-earned money will be going to a good cause, a waitstaff. We're excited to finally be able to provide our patrons with the opportunity to get refills on their drinks, have plates that are washed on both sides, and not have to fight over who called "next" on an open table. We assure you that despite all the small price increases, our menu will remain otherwise unchanged.
We're changing our menu
So yes, with our name change, will come a slight alteration to our menu as we'll no longer only be serving just "American" food. If you think about it, that was a pretty silly idea in the first place and also not entirely accurate as our buffet routinely featured spaghetti, pizza, stir fry, egg rolls, pierogies, and even crepes (which were marketed as pancake roll ups). We've decided that limiting ourselves to just one type of cultural cuisine is narrow minded. So with that in mind, we've hired a millennial Chef named Tim "Spice" Buckson, to help bring our menu into the 21st century. True to his name, Chef Buckson does indeed use spices on most, if not all of his dishes, which will be new for us and for our patrons.
In addition to the changes to our food menu, we also intend to roll out an extensive beer and wine list. We view this as a marked improvement from our previous menu which only offered something called "Secret Coke," which was just Evan Williams Whiskey in a styrofoam cup. We think you're going to love ordering alcoholic drinks like real adults! While we understand that these might sound like significant changes, but restaurants go through menu updates all the time, it's just part of the business. We're of the belief that it's not really our food that makes us who we are, it's the environment and the people.
We've got a new location and we're banning the Davis Brothers
We've relocated from our previous location next to The Auto-Salvage Yard into a quiet strip mall about a half a mile away. We recognize that many folks found the Auto-Salvage sounds of smashing vehicles and electric saws to be peaceful, but we're going to assume that an equal number did not. As an added bonus, visitors no longer have to worry that their vehicle will accidentally be brought into the salvage yard and demolished. Additionally the Davis Brothers, who we recognize many of you know and love, will no longer be allowed admittance into our restaurant. They were, indeed, an entertaining duo, but they started too many fights and insisted on always cooking their own food, which was a definite liability. We wish them the best of luck at whatever wateringhole they choose to inhabit next, but it won't be ours. In spite of the move and the absence of the Davis Brothers, we vow to you, our loyal customers, to keep those heaping buffet style-portions intact.
We're no longer a buffet
Okay, so I know what I just said, but if you really think about it, no one ever needs more than one plate of food. We promise to make the plates really big (not quite as big as the garbage can lids we used to use) and to fill them very full, but you're only going to be getting one from this point on. Unless you decide on ordering two meals which you are more than welcome to do.
Hey, we're still the Big Dave's XXL American Buffet you know and love. We just have a different name, menu, exterior, interior, theme, staff, and overall ethos, but other than those things, we haven't changed one bit. So we invite our loyalty reward members, formerly The Plate Posse, now "The Olive-garchs," to please stop by and see us real soon. We've missed you!
About the Author
Latest Posts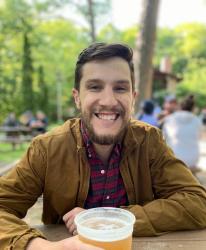 Adam Dietz is a writer and the host of the Home Improvement (the sitcom) podcast "Home Impodcast." His work has been featured in McSweeney's Internet Tendency, Slackjaw, and The Art of Autism. He lives in Milwaukee with his partner and their two cats.


https://weeklyhumorist.com/wp-content/uploads/2021/07/xxl-feat.png
330
432
Adam Dietz
https://weeklyhumorist.com/wp-content/uploads/2018/04/WH-color-logo-pattern-b.png
Adam Dietz
2021-07-13 22:48:37
2021-07-13 22:48:37
Big Dave's XXL American Buffet Is Back And Better Than Ever!