Originals

On her birthday, March 15th: Rachael is a goddamn goddess. The extra unnecessary "A" in her name stands for Awe-inspiring. I am inspired by Rachael today and everyday. Live it up, your majesty! It's your special day, you perfect Pisces princess!
On a normal Tuesday in January: Oh, Rachael P.? From college choir? Yeah, I don't really see her much anymore, but she seems like she's doing okay. Yeah, her and Toby are still together. I know, they do kind of look like siblings. It's weird.
---
On her birthday, August 1st: Natalie was born on the FIRST of August because she is NUMBER ONE in my heart, forever. I'll never forget the time we went skinny-dipping on spring break (!) Haha, sorry mom! That's what you get for following me on Insagram. Anyway, Natalie is a sparkling fairy wonder woman and I can't wait to see where life takes her for her 27th trip around the sun!
On a random Thursday in December: Oh, I didn't tell you? Yeah, when we went skinny-dipping I saw it. Like, the weirdest, most distorted tattoo of Robert Downey Jr. you will ever see. I swear to god I thought it was Edward Scissorhands at first. Yeah, no, right smack in the middle of her left cheek. I swear on my life! I could not make this shit up.
---
On her birthday, November 30th: ATTENTION UNIVERSE: It is the ethereal daffodil-scented porcelain mermaid BECKA's BIRTHDAY TODAY! That's right, our very own Boozin' Becka made her Earth debut on this very day 29 years ago. Comment below with your favorite black-out memory with the Becka-nator herself and see you TONIGHT to CELEBRATE with drinks on drinks on drinks!!! Hope you like tequila, Beck-It-Ralph!
On New Year's Eve 2016: Yeah, I doubt Becka's going to be able to give up drinking for the whole year. She should try a more realistic resolution, like flossing her teeth every day or drinking more water.
---
On her birthday, May 13th: Happy birthday to the truest friend I have ever had. Lucy, thank you for 12 years of memories, laughter, and cherry Tootsie Pops. I'll never forget the first Halloween we spent together, trick-or-treating as two adorable ballerinas. We've been dancing through life together ever since. I love you so much!
On the day before her birthday, May 12th: We're not even really friends anymore, I just feel obligated to make an appearance since we grew up down the street from one another and I was there the day her dad left. Yeah, she is kind of annoying, but we just have a lot of history together. I'll just stop by her party for one drink and then I'll meet you guys in Bushwick. I'll Venmo you for the molly.
---
On her birthday, September 20th: Wishing the happiest of birthdays to my soulmate, my partner in crime, the peanut butter to my petroleum jelly (inside joke, lol), the light of my life, Tiffany. Tiff, I know you've had a tough year but I've witnessed firsthand how much stronger you are for it. You are such a badass. We are going to stay out until the sun comes up on your second day as a flirty, dirty thirty-year old! I hope you stocked up on your Red Bull, because I am ready to celebrate YOU and only YOU all night!
On her birthday, 11:58 PM: My Uber is here, tell her I said bye.
---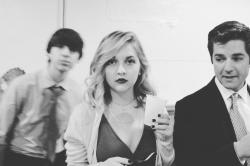 Lauren Spinabelli is a writer from Pittsburgh. She lives in Brooklyn right now. Follow her on Twitter @spinubzilla.


https://weeklyhumorist.com/wp-content/uploads/2019/06/featured-WH-birthday.png
330
432
Lauren Spinabelli
https://weeklyhumorist.com/wp-content/uploads/2018/04/WH-color-logo-pattern-b.png
Lauren Spinabelli
2019-06-13 18:43:31
2019-06-13 18:43:31
How I Talk About My Friends On Their Birthday Social Media Posts Vs. Every Other Day of the Year