News Briefs

COLLINSVILLE, Illinois – When Wally Pavlicek decides to slip into the kitchen for a late night snack, he doesn't fool around.
Not only did he slip into the kitchen, … literally, …  he also slipped into the Guinness Book of Records at the same time.
Pavlicek,  formerly a 6'4", 600 pounder,  but now a 110 pound door-to-door auto parts salesman, was about to turn in for the evening when as he described it, he "had this overwhelming desire for a little something to eat."
He goes on to explain, " That was kind of unusual for me.  I rarely ever eat before going to bed anymore, because since I lost all the weight I 'm really pretty strict about watching my diet.  My wife likes it that way."
Trying not to disturb his sleeping wife Lurlene, who now outweighs him by a couple of hundred pounds, he tiptoed into the kitchen oblivious to the fact that earlier that evening, his kids had made an art project out of little pats of butter, and left it on the floor to dry.
"I hit that first pat of butter, and flew out the window like a javelin", said Pavlicek.   "It was just horrifying."
He went on to explain, "There was a wind storm brewin'  that night, and it was goin' real good.   The last thing I remember is flyin' down Route 159, right past The World's Largest Catsup Bottle, and the next thing I knew, I was half a mile away in the town of Mattoon, in my pajamas, stuck in the mud like a gravity knife.  It was down right humiliating. "
Collinsvile, a small town on the outskirts of The Windy City of Chicago is known for experiencing sudden gusts of wind up to 180 miles an hour.
Mayor Tom Wysniak likens what happened to Pavlicek to what happened to Dorothy in The Wizard Of Oz.
" Just like when Dorothy flew through the air in that tornado, Pavlicek's slight frame must have been caught in an updraft, and it carried him right into Mattoon.   He's lucky he wasn't killed, or worse."
Previously the longest slip on record was set in 1918, during The Battle of the Marne, when French soldier Pierre De La Roche accidentally slipped on a banana peel and flew behind enemy lines.
That slip made De La Roche a hero.  He received his country's highest honor because from where he landed, he was able to take out an important German artillery position, which helped the Allies win the war.
After 83 years, his record no longer stands thanks to Wally Pavlicek.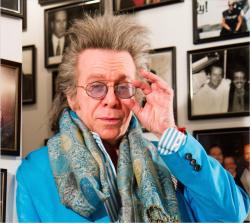 Jeffrey's a comic and comedy writer who's written for comedy legends such as Rodney Dangerfield, Joan Rivers, George Wallace, Phil Hartman, Richard Belzer, and Andrew "Dice" Clay, among many others. Jeffrey has performed stand-up at most of the big clubs in NY and L.A. and is known for being a regular on-air personality on Sirius XM's Bennington Show. He writes a weekly column covering the comedy scene for The Interrobang called "Jumping Around with Jeffrey Gurian", and has also written for MTV, National Lampoon, and many Friars Roasts. His Comedy Matters TV channel boasts over 450 video interviews with A-listers like Jimmy Fallon, Jim Carrey, Amy Poehler, Amy Schumer and even women NOT named Amy. His crowning achievement was getting his own column in the legendary Weekly World News called " Gurian's World of the Bizarre" which led to the creation of GNN (Gurian News Network) bringing you the most unusual stories in The Universe, missed by mainstream media.


https://weeklyhumorist.com/wp-content/uploads/2017/12/featured-image-template-butter.jpg
330
432
Jeffrey Gurian
https://weeklyhumorist.com/wp-content/uploads/2018/04/WH-color-logo-pattern-b.png
Jeffrey Gurian
2017-12-22 15:28:11
2018-01-04 15:28:55
Man Slips On Pat Of Butter, Winds Up In Next Town