News Briefs

MILAN, Italy — Internationally known and respected men's clothing designer Fabrizio Bellantonio, has managed to shock the usually unshockable world of men's fashion by designing what he calls the perfect combination of business style and work-out/physical fitness ethic, …the short sleeve suit.
Now you can attend that important business meeting but still impress the girls with your well developed biceps.
Made to be worn with short sleeve shirts and French cuffs, the cufflink usually sits in the center of the bicep, really showing off the muscle to it's best advantage, especially when reaching across the conference table to pass that heavy water pitcher, raising your hand to make that salient point, or "casually" lifting your heavy briefcase filled to the brim with earth-shaking, innovative ideas.
Cuff sizes are adjustable according to the size of the bicep, and some gyms are already putting out their own short sleeve suits to accommodate the huge number of bodybuilders who still like to dress up, but are often unable to find suits to accommodate their huge arms, without spending a fortune on custom made suits.
Most suits come with an extra pair of pants like they did in the 1930's, when it was commonplace for most fine suits to come with two pairs of pants.
One pair are long, the other pair are cut like shorts to allow the men to show off their calf muscles, and quads as well.
With physical fitness on everyone's mind, and people feeling so much more proud of their bodies than they have in the past, many men have felt they were not able to show off all their hard work in the gym while wearing a regular suit.
This feeling has been proven beyond a shadow of a doubt to have adversely affected productivity in the workplace.
Dr. Salman Shnayvid of The University of California at Encino, noted research scientist in the field of sociology, states, "Men who are happy with their bodies and who take pride in showing them off, tend to do much better work, and get more things accomplished during the course of an average day at the office.
"These short sleeve suits allow them to do a good days work, and still feel good about themselves."
The women in the office seem to like them too.
Margaret Wallace, head of productivity research at I.C.G., one of the biggest tech firms in the nation, claims that these short sleeve suits increase women's productivity as well.
According to Wallace, " A man with good arms in a short sleeve suit is like a shot of adrenaline to many women, who after working hard all day, can certainly use a visual treat."
The suits are flying off the racks, and are being sold at only the best stores. A Bellantonio suit usually starts at $1200. and goes up from there.
One customer, a little lighter in the pocket after buying three of the suits said, "You have to pay an arm and a leg for these exciting new creations, but sometimes that's what it takes to stay stylish and well-dressed."
"Also", he continued, "what better incentive to keep going to the gym? They just don't look as good when worn by guys with pipestem arms."
With the advent of the short sleeve suit, now men can be considered well dressed, and casually dressed at the same time.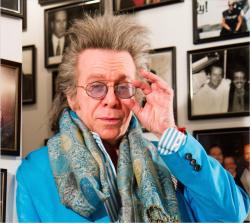 Jeffrey's a comic and comedy writer who's written for comedy legends such as Rodney Dangerfield, Joan Rivers, George Wallace, Phil Hartman, Richard Belzer, and Andrew "Dice" Clay, among many others. Jeffrey has performed stand-up at most of the big clubs in NY and L.A. and is known for being a regular on-air personality on Sirius XM's Bennington Show. He writes a weekly column covering the comedy scene for The Interrobang called "Jumping Around with Jeffrey Gurian", and has also written for MTV, National Lampoon, and many Friars Roasts. His Comedy Matters TV channel boasts over 450 video interviews with A-listers like Jimmy Fallon, Jim Carrey, Amy Poehler, Amy Schumer and even women NOT named Amy. His crowning achievement was getting his own column in the legendary Weekly World News called " Gurian's World of the Bizarre" which led to the creation of GNN (Gurian News Network) bringing you the most unusual stories in The Universe, missed by mainstream media.


https://weeklyhumorist.com/wp-content/uploads/2018/08/featured-image-template-suit.jpg
330
432
Jeffrey Gurian
https://weeklyhumorist.com/wp-content/uploads/2018/04/WH-color-logo-pattern-b.png
Jeffrey Gurian
2018-08-10 17:44:09
2018-08-10 17:44:09
Short Sleeve Suits All The Rage In L.A.