News Briefs

PENSACOLA, Florida – Jack Navish had worn clothing all his life, and never had a problem, until the day he came down with an unexplained full body rash.   Now he goes to work totally nude.
At first, he assumed the rash was from a new detergent, or maybe a reaction to some food he ate, but day after day went by, and instead of getting better, it continued to get worse.
His doctor prescribed a dose of Benadryl, 50 mg. every four hours, but it did absolutely nothing.
They proceeded to try every steroid cream and lotion on the market, and consulted every dermatologist within a 100 mile radius of his home, all to no avail.
It finally became uncomfortable enough that when he got home, he had to take off all of his clothes, and walk around in the nude.
Almost immediately upon doing that, Navish began noticing a change, but as soon as he got dressed the next morning, the rash continued to itch and get worse.
After finally seeking help at an allergist's office, where literally hundreds of tests were done. he was given the terrible truth that he was indeed allergic to clothing.
Dr. Salman E. Trafe, head allergist at Ockalocka State Hospital says, " I've seen people allergic to certain fabrics before, like wool or silk, but never in my 30 years of practice have I ever seen a man become allergic to all articles of clothing, no matter what they're made of. If I hadn't seen it with my own eyes, I wouldn't have believed it." For the past 26 years, Navish, 48, has worked as a lawyer and partner at the white shoe firm of Skavey, Phelps, and Windham, one of the biggest law firms in Florida.
He was in charge of bringing in new business, and meeting with new clients,
It was hard enough explaining to potential clients why, thanks to the warm weather in Florida, he had started coming to work in the briefest of T-shirts and shorts, leaving as much of his body exposed as possible.
But, when even the briefest Speedo, and cut off shirt became too much, Navish had no choice but to request that he be allowed to come to work nude.
" I was really afraid that a request like that might cost me my job, " he said, "but I basically had no other choice."
After much debate among the other partners, mostly because of his 26 year history with the firm, they voted to allow him to come to work naked, but only if he kept it low key, and didn't disturb either the other employees, or negatively impact potential clients.
One new client, Suzie Whitcolm of Whitcolm Enterprises says, " In all honesty, when I first came to meet Mr. Navish, I thought his nudity was a little odd.   But after the first few minutes of hearing his presentation, I realized that he had such good ideas for my company that I was able to get past the awkwardness of his nudity, and really began to listen. Now, in retrospect, I'm glad I stayed."
In an unusual update on this story, a local artist named Cheyenne may have come to Navish's rescue by offering to use bodypaint, and paint pants, and a shirt and tie onto Navish's naked frame, much more in keeping with the law firm's previously conservative staid image.
One astonished law partner commented, "Jack's a good man, but paint or no paint, it's obvious that the man is naked. It's starting to sound a little like The Emperor's New Clothes around here!"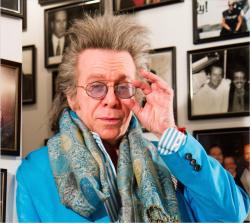 Jeffrey's a comic and comedy writer who's written for comedy legends such as Rodney Dangerfield, Joan Rivers, George Wallace, Phil Hartman, Richard Belzer, and Andrew "Dice" Clay, among many others. Jeffrey has performed stand-up at most of the big clubs in NY and L.A. and is known for being a regular on-air personality on Sirius XM's Bennington Show. He writes a weekly column covering the comedy scene for The Interrobang called "Jumping Around with Jeffrey Gurian", and has also written for MTV, National Lampoon, and many Friars Roasts. His Comedy Matters TV channel boasts over 450 video interviews with A-listers like Jimmy Fallon, Jim Carrey, Amy Poehler, Amy Schumer and even women NOT named Amy. His crowning achievement was getting his own column in the legendary Weekly World News called " Gurian's World of the Bizarre" which led to the creation of GNN (Gurian News Network) bringing you the most unusual stories in The Universe, missed by mainstream media.


https://weeklyhumorist.com/wp-content/uploads/2018/07/featured-image-template-nude-office.jpg
330
432
Jeffrey Gurian
https://weeklyhumorist.com/wp-content/uploads/2018/04/WH-color-logo-pattern-b.png
Jeffrey Gurian
2018-07-06 16:18:56
2018-07-06 16:18:56
Man Allergic To Clothing Gets Permission To Come To Work Nude