originals

Hi. I'm excited to sit with you here by the coal pit and discuss this opportunity. I can see another smogstorm gathering so I'll skip the small talk and get right to it: I think I will be an essential addition to your post-apocalypse survival crew.
I imagine that, in considering your ideal team member, a Media Studies major with a background in Fine Arts Logistics doesn't jump immediately to mind, but if you'll hear me out, I'd love to highlight the unique skills and experience I'd be bringing to the position.
1. Creative problem solving and flexibility are my bread and butter, so to speak… What's that? No, I don't have butter. I haven't seen butter since the Trade Wars with the New England States.
2. Extensive community theater experience. I'll be more than ready if this turns out to be the sort of post-apocalypse where Shakespeare is important. I'd also be happy to coach the crew in acting techniques, in case of a situation where our survival depends on blending in with the Armies of Forgotten Men.
3. Resourcefulness and resilience, as exemplified by the night, last year, when I had to chase a bat with a tennis racket, as my roommates were too scared to deal. I found myself in a demanding leadership position and rose to the challenge with aplomb.
4. Not squeamish or fussy. In 8th grade I ate a chicken nugget of unknown age and origin, found on the floor of a bus, because my friends offered a dollar each to watch me (to be honest I mostly did it for the attention. Middle School was a tough time for me). And in terms of general lifestyle and upkeep, I've been apocalypse-ready for my entire adulthood, with my daily utilitarian ponytail and bunion-friendly sneaks.
I hope you'll agree these anecdotes show a rare form of courage and a steely can-do attitude that will benefit my cohorts as we fight other gangs over the last scoops of toilet water.
Let's explore the possibilities for my role in your bunker, or cave, or wherever your HQ is. Every successful raid needs a Project Manager, someone to hunker down safely in the background and keep operational procedures running smoothly. It might even be wise to dovetail this in with stockpile organization. We can circle back to that and my other innovative structural ideas at a later point.
Question: does your crew have a Memoirist? To document the oral history of the Fall and the horrific ways in which we sacrificed our humanity to survive? It would be a mistake to overlook that vital role, and as a frequent contributor (and one-time designer) to my college literary journal, Calliope, I'd be an ideal candidate.
I can see a desperate-looking hoard creeping down that outcropping over there, so I'll just briefly address the employment gaps and unconventional career path you might be noticing on my resume. You see, I describe myself as "marching to the beat of my own drum." Speaking of drums, if this is the type of posse that likes to ride out into the wasteland with a musician dangling from the front of a truck, I'm your gal! I can play a feisty marimba and a passable glockenspiel. Oh, no, sorry. You misunderstood. I have no weaponry expertise. I can knit. Just want to mention that before we run out of time. I hear the distant, blood-chilling wails that signify encroaching nightfall.
Real quick, I've supplied several references, two from friends who can swear to my unyielding loyalty (elemental to our survival as a group), and another from a friend who can attest to my absolute willingness to stab someone in the back without a second's thought (in case that becomes necessary).
One last thing, and I think you'll appreciate the crux of my proposal here: yoga. I've been practicing yoga for nearly three years now, and while technically not a certified instructor– what? No, not certified, but does it matter? Surely your medic isn't an actual doctor, right? Probably an ophthalmologist, or a vet. Really? No medics? I'm surprised to hear that. How about a sheriff? No? Any soldiers? Any mechanics or, I don't know, scientists? No way. And you already have a diarist? Well, I think we're coming to the same conclusion, and I won't waste any more of your time or mine. I'm not sure this will be the best fit for me at this juncture. Best of luck to you.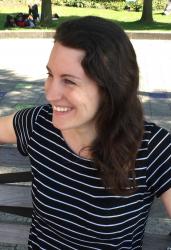 Emma Brewer is a humor and fiction writer whose work has appeared in McSweeney's, Points in Case, Weekly Humorist, Jellyfish Review, and elsewhere. She's working on a short story collection. Find her on Twitter @emargaretbrewer


https://weeklyhumorist.com/wp-content/uploads/2019/09/crew-feat.png
330
432
Emma Brewer
https://weeklyhumorist.com/wp-content/uploads/2018/04/WH-color-logo-pattern-b.png
Emma Brewer
2019-09-19 20:18:46
2020-01-02 19:25:39
Please Accept my Application to Join Your Post-Apocalypse Survival Crew