Originals

Mr. Chairman, Ranking Member Feinstein, members of the committee. Former National Wildfire Prevention Spokesbear Smokey the Bear here. Thank you for inviting me to testify before you today. As a 75-year employee of the United States Forest Service, a one-time trusted advisor to the president, and a patriot, I appreciate the opportunity to participate in Congress's impeachment inquiry into President Trump. I have prepared a brief opening statement.
As you all know, I have dedicated my career to educating our nation on the impact of unplanned wildfires. I'm immensely proud of the "Only YOU" campaign, an achievement that stands above all others in my oeuvre. That's why I feel compelled to "fill in the gaps" regarding my knowledge of the president's direct involvement in the politically-motivated attempt to withhold FEMA wildfire survivor funds…the so-called "Rakegate." The American people deserve to know what happened, and after reading my book — which will hit shelves before the 2020 elections — they will.
I will, of course, testify today to my dealings with the president in the matter before this committee. But I can't just share all of the details, like whether or not he once told me, "I'm going to schlong Governor Newsom on these FEMA funds" at Mar-a-Lago. I'm saving that story for the book, specifically Chapter 7: "California Gets Schlonged."
Members of this committee, I am acutely aware of the responsibility I "bear" to reject not just Mr. Trump's FEMA "drug deal," but also his dangerous and ill-informed theories. His outrageous "raking and cleaning and doing things" claims threaten everything the USFS, The Ad Council, and I have worked so hard to achieve.
On the other paw, wasting my best anecdotes on this hearing threatens my ability to buy a summer home on Kodiak. No one's going to buy my book if they just saw the good stuff on a CNN chyron, right? As my publisher told me during our press junket prep meeting, "Only YOU can prevent this book from really catching fire, Smokey."
Still, I agreed to testify today because it's the right thing to do, and Mitch said I had to. I do indeed have firsthand knowledge of "many relevant meetings and conversations" that the president is correct to be worried about. I will not merely "go into hibernation" after leaving my post, as the president hoped I would when he hijacked my Twitter account. I'm ready to paint a picture of the inner-workings of the Trump administration for the American people. Speaking of pictures, my book includes over 25 full-color photos. Perhaps one that features Rudy Guliani (in drag for some reason) smoking cigars and recording video birthday cards for the grandmothers of two Ukrainian timber oligarchs? You'll have to read to find out!
Well, read or listen. Members of the committee, I'm this close to nailing down none other than SAM FREAKIN' ELLIOTT to record the audiobook! He did a great job reading Woodsy Owl's tell-all book about his brief time running Trump's EPA, No More Hoots to Give. That's a great read, by the way. We're giving away a free copy to everyone who donates to SmokeyPAC this quarter.
Writing this book (well, dictating it to my ghostwriter) has been incredibly rewarding and liberating. Still, it feels strange not being out there in my old gig — in the schools, the National Parks, and on the airwaves — reminding folks of their accountability when it comes to preventing wildfires. I may have resigned, but an American black bear never backs down from a fight. The president's statements don't just put lives and property at risk. They jeopardize my life's work. My legacy is essentially my cub, and Mr. Trump is standing directly between us. So yeah, I'm going to set the record straight. I'm just going to do it in book form, plus the speaking circuit. And maybe a few podcasts.
Anyway, I know we have eight hours scheduled for this thing. But unless you want to hear me say, "I'm sorry, Senator, I don't recall…I'd have to check the very detailed appendix of my new book, A Betrayal Falls in the Woods" about seventy-five times, we should probably wrap this up.
Maybe we could repurpose this time to chat about my new job? I'm a lobbyist for Weyerhaeuser now! So, I guess I'll be seeing many of you all around the Hill if your state has trees or whatever? I know you can't accept gifts from lobbyists, but maybe a few autographed copies of my book will fall out of my laptop bag or something. I'm just kidding, don't start another inquiry!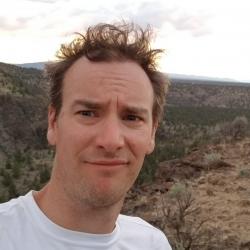 Andrew is a writer living in Portland, OR. He has performed sketch and improv comedy at Curious Comedy Theater, Kickstand Comedy Space, and the Detroit Improv Festival. His written work can be seen in places like Weekly Humorist, Slackjaw, Robot Butt, Points in Case, and Little Old Lady Comedy. Twitter: @andrewtweeets www.marshall.pizza


https://weeklyhumorist.com/wp-content/uploads/2020/01/smokey-feat.png
330
432
Andrew Marshall
https://weeklyhumorist.com/wp-content/uploads/2018/04/WH-color-logo-pattern-b.png
Andrew Marshall
2020-01-27 15:35:41
2020-01-27 15:55:00
Sorry, My Impeachment Testimony Won't Include the Juicy Stuff From My Book, by Smokey the Bear