Originals

PruneFest!  
Spend an idyllic summer afternoon in the company of friends and loved ones, savoring the sweet scents and flavors of a wide variety of prunes, prune jams and jellies, prune wine, plus workshops on using prunes to improve everything from your chi and sex life to sleep patterns.  Look out for Pruney Paul and his green basket of prunes, it's all he eats and it shows (smells)! As usual with this particular event, porta-potties are in high demand yet short supply, so please plan accordingly.
---
N'Cel Live In Concert
Infamous music producer Louis Jay Pearlman, behind many popular boy bands including N'Sync, is back to the genre that made him famous!   N'Cel, a boy band made up of frustrated, lovelorn incels, has been rocking the charts and warming up hearts.  But for whatever reason still can't manage to get laid.
---
The Amish Gynecological Museum
Have you ever wondered what a pap smear given by someone who spent their formative years churning butter seven hours of the day must be like?    The Amish Gynecological Museum has the answer to this question and many more, as well as the tastiest tree-bark candy in seven counties!
---
One Flag
You're right, going to Six Flags has gotten more and more expensive every year of late.    Options are admittedly few and far between, but here's something, maybe?    "One Flag", the ad in the Penny Saver proclaims.    To be honest, based on most of the folks we saw at the park, that one flag is of the Confederate variety.
---
Gettin' Gooey With Louie
My Uncle Louis has an amateur honey-wrestling league that he runs out of his parent's backyard.   It was originally a scheme to try and meet women, but no women have ever shown up to any event, as a contestant or an audience member.    Still, it's a pretty good show, even if you catch it on a night when Louie just sits in the honey-filled kiddie pool by himself and stares out into nothing.    Very avant garde, in a way.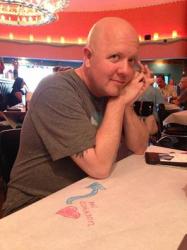 Kit has been a regular contributor to MAD magazine for over ten years, and has also been regularly published by National Lampoon, Playboy, The American Bystander, Funny Or Die, SpongeBob Squarepants Comics, Points In Case and many others. His work has been called "sort of like 'The Far Side', but more offbeat and often much funnier" by people who should clearly know better. He lives with his wife and two dogs, all of whom do their best to tolerate his presence


https://weeklyhumorist.com/wp-content/uploads/2022/09/Prunefest-feat.png
330
432
Kit Lively
https://weeklyhumorist.com/wp-content/uploads/2018/04/WH-color-logo-pattern-b.png
Kit Lively
2022-09-01 15:21:36
2022-09-01 15:29:57
Last Minute Budget Summer Vacation Suggestions