News Briefs

SACRAMENTO, California – Tired of being picked on for his scrawny, toothpick-like frame, 38 year old Harold Vornado decided to finally do something about it.   Six feet two inches tall, but only 118 pounds made Vornado the target of every creep on the beach. But not any more. Now they call him "Vornado the Tornado."
He didn't join a gym as most other people might, instead Vornado sought out the help of his local tattoo artist Mike " The Artist" Strunk, who tattooed the body of a weightlifter over Vornado's skeletal frame.
Strunk had made a reputation for himself in the world of body art by tattooing full size pictures of people's kids on their bodies, leading to the publication of his successful coffee table book, " Honey, I Strunk the Kids."
Actually Vornado claims to have spent years in the gym, but all to no avail.   "I even got one of those all-in-one gyms for my house, but I had to fight like mad for every quarter inch I gained. Even after 11 years of strict work-outs my biceps only measured 10 inches. They were really more like "uniceps" than biceps."
Strunk said, " I looked at this like a real challenge, … a full body tattoo. I had heard of only one case before and that was of a 400 pound Fiji Islander who had the bodies of two 200 pounders tattooed over his own, and tried passing himself off as twins."
Vornado said due to the pain and the expense, they had to work in sections, and a couple of times they even had to stop in the middle of certain particularly difficult body parts.
" Working over the sternum is really tender", Vornado explained. There was a time for about three days when I only had one muscular pectoral muscle, and the other half of my chest was as flat as ever. But wait till they see me now."
Three months, and $6400. later, Vornado plans to take his new body to the beach this coming summer, and hopefully find the elusive girl of his dreams.
"She'll have to be comfortable with tattoos of course, but these days more women are open to that than ever before.   I know one thing", he added, " These days, I'm more likely to find a woman who likes tattoos, than to find a woman who likes all skin and bones."
About the Author
Latest Posts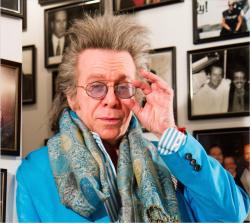 Jeffrey's a comic and comedy writer who's written for comedy legends such as Rodney Dangerfield, Joan Rivers, George Wallace, Phil Hartman, Richard Belzer, and Andrew "Dice" Clay, among many others. Jeffrey has performed stand-up at most of the big clubs in NY and L.A. and is known for being a regular on-air personality on Sirius XM's Bennington Show. He writes a weekly column covering the comedy scene for The Interrobang called "Jumping Around with Jeffrey Gurian", and has also written for MTV, National Lampoon, and many Friars Roasts. His Comedy Matters TV channel boasts over 450 video interviews with A-listers like Jimmy Fallon, Jim Carrey, Amy Poehler, Amy Schumer and even women NOT named Amy. His crowning achievement was getting his own column in the legendary Weekly World News called " Gurian's World of the Bizarre" which led to the creation of GNN (Gurian News Network) bringing you the most unusual stories in The Universe, missed by mainstream media.


https://weeklyhumorist.com/wp-content/uploads/2018/03/featured-image-template-tat.jpg
330
432
Jeffrey Gurian
https://weeklyhumorist.com/wp-content/uploads/2018/04/WH-color-logo-pattern-b.png
Jeffrey Gurian
2018-03-09 20:36:32
2018-03-09 20:36:32
Man Tattoos Muscular Body On His Own Scrawny Frame