Originals

Trump's most recent treasonous travesty, urging his inbred hillbilly shithead followers to go Night Of The Living Dead on the Capital, is most certainly deserving of the most extensive punishment possible. Sadly, most political pundits agree that there's just not enough time to slap him with the 25th Amendment, which would have him shamefully removed from office before the end of his term. But what about the addendums to the 25th Amendment? Maybe some good ideas in there somewhere?
---
Punishing Trump With Addendumbs To The 25th Amendment…
25 B-7: Trump forced to live in a run-down condo with son Eric as a roommate, for a minimum of no less than seven years.
---
25 G-9: Trump, sans his extensive tanning make-up and hair assistance, forced to mall-walk daily with a group of other seniors his own age.
---
25 J-7: Louie Anderson to portray Trump in any / all future tell-all movies (this will drive Trump crazy!!).
---
25 K-4: Bathing suit photos of Ivanka removed from Trump's phone.
---
25 N-2: The McRib? Gone forever, never to return.
---
25 P-8: Nationwide iPhone alert sent out to everyone whenever Trump runs to Walgreens for a new package of adult diapers.
---
25 Q-3: Trump's grandchildren allowed to visit him a minimum of two weekends per month.
---
25 R-15: Secret Service detail comprised of security personnel on duty at the Capital on January 6, 2021.
---
25 T-6: Birthday to never, ever, be mentioned on Entertainment Tonight.
---
25 V-4: Only allowed back into NYC to periodically and publicly perform the When Harry Met Sally deli orgasm scene with Rudy Giuliani.
---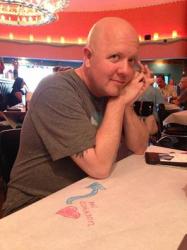 Kit has been a regular contributor to MAD magazine for over ten years, and has also been regularly published by National Lampoon, Playboy, The American Bystander, Funny Or Die, SpongeBob Squarepants Comics, Points In Case and many others. His work has been called "sort of like 'The Far Side', but more offbeat and often much funnier" by people who should clearly know better. He lives with his wife and two dogs, all of whom do their best to tolerate his presence


https://weeklyhumorist.com/wp-content/uploads/2021/01/ademmdumbs-feat.png
330
432
Kit Lively
https://weeklyhumorist.com/wp-content/uploads/2018/04/WH-color-logo-pattern-b.png
Kit Lively
2021-01-07 18:31:36
2021-01-07 18:31:36
Punishing Trump With AddenDUMBS To The 25th Amendment