originals

{ Transcript of provided Brett Kavanaugh 1982 Calendar }
---
July 2 – "Start spontaneous towel slapping fight in locker room"
July 4 – "Remind Mark Judge to bring tequila & condoms to Fourth of July BBQ"
July 5 – "Pick up Mark from the JC Penny's lost and found"
July 6 – "Miami Vice costume party kegger. I'm Crocket, Mark is Tubbs. Reminder buy pink shirt, white pants, Cool-Rays"
July 9 – "Organize French tickler collection by class of felony"
July 10 – "Visit Yale, Remember Visine."
July 13 – "Fun crafting project! Coordinate, alphabetize and color code potential alibis."
July 14 – "FFFFFFFBastille Day!"
July 15 – "Pickup America's new album, "View from the Ground." Perfect make out music!
July 16 – "Make appointment for "Kavanaughty But Nice" tramp stamp tattoo."
July 17 – "Visit Columbia University: Remember to check out library. Haha!"
July 18 – "Maryland Shore Bitch—I mean Beach Party. Haha! Note to self: Don't black out. Again."
July 20 – "Don't forget to stop by bowling alley bathroom"
July 21 – "Hypothetical Plans"
July 22 – "Buy gag dick" – (X'd out)
July 24 – "Pick up hangover cure burgers for buddies, and stomach-pump kits for girls passed out in front yard."
July 25 – "Don't forget! Final day to join Cock Trial!"
July 27 – "Sears Annual Calendar Sale!!!"
July 28  – Did not go to party at beach. Did not get wasted.  Did not assault Christine Blasey.  Do not even know a Christine Blasey.
July 31 – "Finally get to meet Mark's friend Bart O'Kavanaugh! Just don't tell him 'no!' haha [heart]"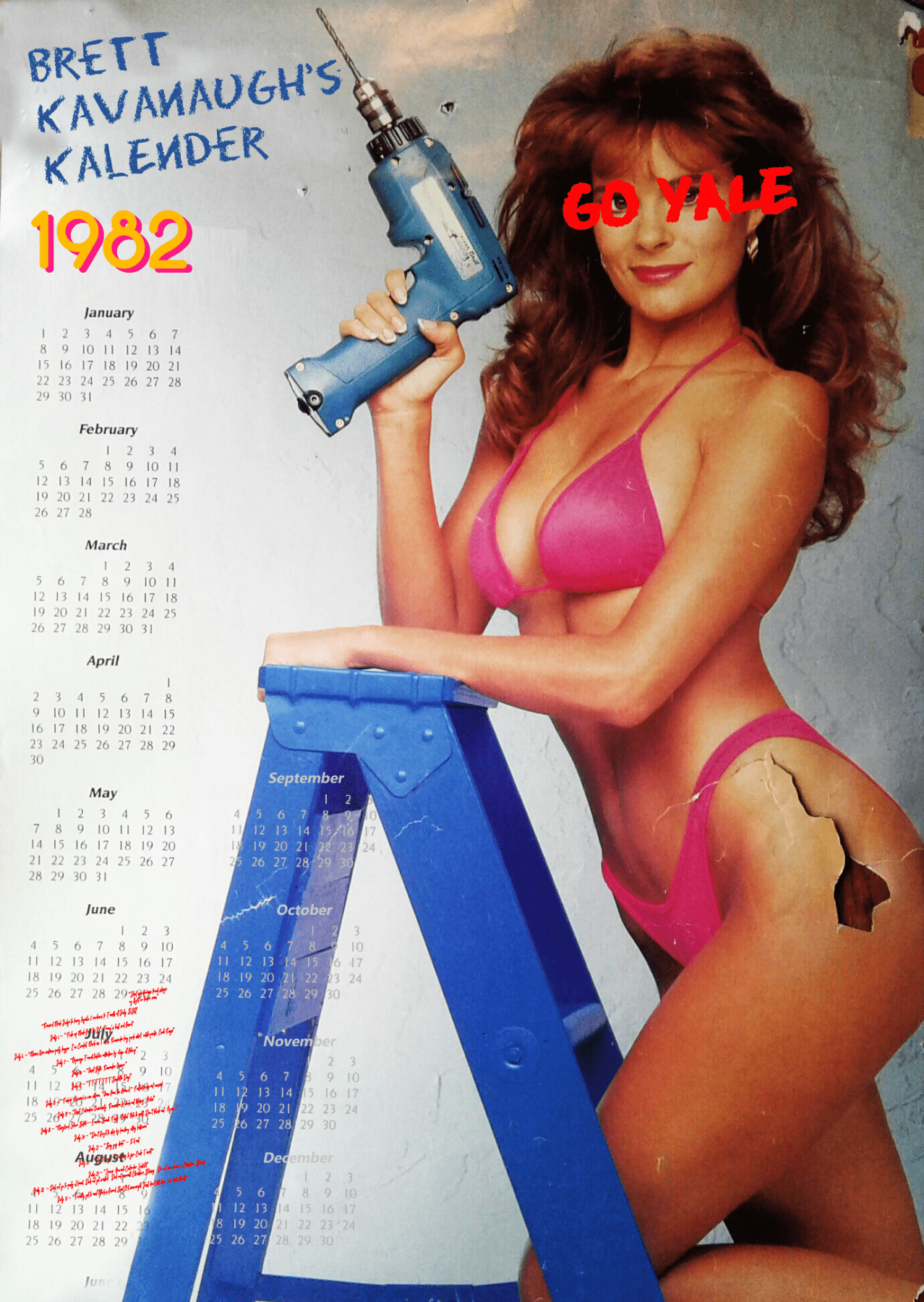 written by @mattrotman @paul_lander and @kitlivley


https://weeklyhumorist.com/wp-content/uploads/2018/09/featured-image-template-kavakalendar.png
330
432
Matt Rotman, Kit Lively and Paul Lander
https://weeklyhumorist.com/wp-content/uploads/2018/04/WH-color-logo-pattern-b.png
Matt Rotman, Kit Lively and Paul Lander
2018-09-24 23:35:41
2018-09-25 01:24:49
Brett Kavanaugh's 1982 Calendar