Originals

Jail's made me quite remorseful.
I was a different Paul then.
Your honor, I haven't seen Dmitry
Since—what day is it again?
I'm going to white-collar prison,
And my gout's worse than it's ever been.
Why does this have to happen
To a man with the color of my skin?
---
When I was just a toddler
My mother told me, "Bub,
Always be a good boy
Don't ever mess with rugs,"
But I bought a house in Brooklyn
Just to watch them lie.
When I see my private cell,
I'll ask my decorator by.
---
I bet my friends are drinking
On some Russian oligarch's boat
In international waters
Wearing ostrich coats.
Did I really have this coming?
It's not like I was selling weed.
But I guess I'm going to prison,
At least 'til Trump pardons me.
---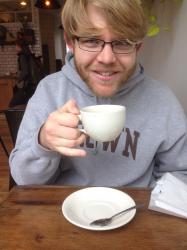 Andy Newton is a writer living in Astoria, Queens. His work has been published by National Lampoon and McSweeney's.


https://weeklyhumorist.com/wp-content/uploads/2019/03/Untitledwhitecollar.png
330
432
Andy Newton
https://weeklyhumorist.com/wp-content/uploads/2018/04/WH-color-logo-pattern-b.png
Andy Newton
2019-03-11 15:44:13
2019-03-11 15:57:50
Paul Manafort's White-Collar Prison Blues