Originals

Polygrip not a suitable substitute for KY Jelly.
---
Per resident requests, in the future schedule hydration / snack breaks during Wheel Of Fortune.
---
If the plug-in air fresheners are not returned by end of day, a curfew will be imposed on all residents.
---
Please be aware of sharp edges on rec room ping pong table.
---
No Reverse Cowgirl for those with displaced hip issues.
---
Following event, extra attention needs to be given to the nightly cleaning of resident dentures.
---
As stated previously, hearing aids can be damaged when exposed to moisture.
---
Mr. Clements banned from next three events due to constantly screaming "That's not tapioca pudding!" to the alarm and dismay of other residents.
---
Mrs. Smithee, not a great time to show other residents photos of your grandchildren.
---
As it turns out, that sour milk smell was simply a bowl of Rice Chex that had been left out overnight; our apologies to Mr. Gardner for the misplaced accusation.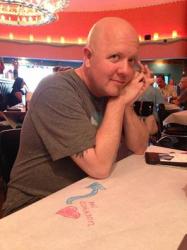 Kit has been a regular contributor to MAD magazine for over ten years, and has also been regularly published by National Lampoon, Playboy, The American Bystander, Funny Or Die, SpongeBob Squarepants Comics, Points In Case and many others. His work has been called "sort of like 'The Far Side', but more offbeat and often much funnier" by people who should clearly know better. He lives with his wife and two dogs, all of whom do their best to tolerate his presence


https://weeklyhumorist.com/wp-content/uploads/2021/04/old-people-feat.png
330
432
Kit Lively
https://weeklyhumorist.com/wp-content/uploads/2018/04/WH-color-logo-pattern-b.png
Kit Lively
2021-04-16 20:31:11
2021-04-16 20:31:11
Dewey Vista Acres Retirement Community- Notes & Comments RE: The Recent Rec Room Orgy