Best Of 2021

A little old place where you can get together! Built in 1989, this converted shack offers intense privacy and can fit about twenty people. A great way to spend some quality time with your friends. Definitely not a house for orgies.
The Space
Walking in feels like entering into a sparkly dream! We've designed a fun, bright space with glitter on the mattress, glitter on the highway, glitter on the front porch, and glitter on the hallway (not in that order, lol!). Perfect for a glitter party or working on indoor art projects, should the weather turn upon your arrival. Please understand, the glitter is not for sex games.
The shack has a tin roof to give it a more homey, shabby-chic feel. You'll notice that it's rusted, that's intentional. It's certainly not a metaphor for pregnancy. That would imply that a woman is "rusted" upon getting pregnant, and that would be super misogynistic! It's really just a rusted tin roof for aesthetic purposes, okay?
Directions
Take the Atlanta highway. Look for a sign at the side of the road that reads "Fifteen miles to the love shack! Love shack, yeah!"
Upon approaching the house, you'll see another sign that says "Woo, Stay Away Fools!" That's not for you, that's for the neighbors. They have a history of lining up outside the shack and trying to get in and get down. Hence the sign. But you should ignore it and keep driving (sorry for the confusion).
You'll see that the shack is set way back in the middle of a field. This is to ensure you and your friends can enjoy the utmost privacy and won't have to worry about those nosy neighbors peeping in on all your wholesome(!!!) fun.
Get yourself a big car, as big as a whale, because there's almost no parking. You can't bring multiple vehicles because there simply isn't enough space. The open field is not paved. There is just the shack, the Love Shack. If you have a Chrysler that seats about twenty, that would be perfect. Make sure your car is big enough to handle the full load. There is no innuendo here, this is purely logistics.
Check-In
When you arrive, you'll need to bang bang bang on the door, baby. It's likely we won't be able to hear you, so just knock a little louder, sugar. Keep banging, probably about a total of twenty-five times. We know, it's a lot. And it'll last unexpectedly long. But at least there should be about twenty of you to take turns with the banging! To clarify: bang the door, not each other.
Activities
We have a jukebox so hurry up and bring your jukebox money!! I can't believe I have to say this, but we've had some confusion on this topic in the past: this is not a metaphor for sex. We have a literal jukebox.
Come for the privacy but stay for the huggin' and a-kissin', dancin' and a-lovin'. In case it wasn't clear, we mean all of that in a platonic and friendly way.
Other Things to Note
The air conditioner is busted, so you might find yourself wearin' next to nothing 'cause it's hot as an oven. Also, the whole shack shimmies when everybody's movin' around. Will this be an issue? Only if you find yourselves having a pure and innocent dance party!
We're so excited to host you and your nineteen closest buddies. We've encountered miscommunication issues with prior guests, so please understand that this is just a funky old shack for FRIENDS — nothing salacious about it.
Love rules at the love shack! Our cleaning fee is $500, no exceptions.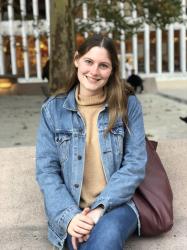 Emily Kling is a writer based in New Haven, CT, where she is currently pursuing her MBA degree from the Yale School of Management. Her work has appeared in The Weekly Humorist, Points in Case, Little Old Lady Comedy, and The Belladonna. While Emily is often late, she is rarely fashionable. Find her on Twitter @EmilyKling2 or at www.emilyannekling.com.


https://weeklyhumorist.com/wp-content/uploads/2021/07/love-shack-feat.png
330
432
Emily Kling
https://weeklyhumorist.com/wp-content/uploads/2018/04/WH-color-logo-pattern-b.png
Emily Kling
2021-07-15 22:13:17
2022-01-02 16:15:49
AirBnB Listing for the Love Shack