Originals

Since the election of our greatest president, Donald J. Trump, Portland's already liberal brewery scene has become even more hostile to Republicans. It's a damn shame that a red-blooded American man can't enjoy a craft-brewed IPA without also having liberal politics poured down his throat. That's why we founded Deplorables Brewing—Portland's first and only alt-right craft brewery.
At Deplorables, you'll find a tasteful, Northwest-rustic style interior, but with conservative touches to make you feel at home. Our televisions blare Fox News under the glow of Edison lightbulbs, and there is a framed portrait of Ronald Reagan over each reclaimed wood table. Relax among friends by our outdoor Tiki torches—you'll find very fine people on both sides of you.
Deplorables is a welcoming family environment. (Note: Family must be a white, heterosexual married couple with at least two biological children to be welcomed.) Speaking of the little ones—we've got a great kids' menu of chicken fingers and hamburgers, inspired by the Commander-in-Chief's personal favorite entrees. We've also got coloring sheets where your kids can draw in the crowd at President Trump's inauguration (printed on legal size paper to leave enough room). Little tykes can even build The Wall with our collection of vintage wooden blocks.
But we know what really makes a brewery successful is the quality of our beers. We've got quite the lineup to satisfy the discerning palate of any Republican craft brew enthusiast and honor President Trump's most triumphant moments. Our current tap list includes:
Lock Her Up Lager: Our flagship beer is a light, easy-drinker perfect for sipping while making misogynistic jokes.
No Collusion, No Obstruction Red Ale: It looks like a pilsner, it tastes like a pilsner, but look, it's not a pilsner, OK? It says so right on our chalkboard. You have no concrete evidence that this is a pilsner.
Perfect Phone Call Porter: We won't withhold flavor on this one in exchange for anything! This dark beer pairs with all your dark deals.
Deep State Dunkel: Enjoy the smooth malty flavor of this beer while you swap your favorite Obama conspiracy theories over a game of cornhole. Did he kill JFK? Probably!
Hoppy Hydroxycloroquine IPA: We told you this would be off the menu by April, but look, it's still here! Good for what "ales" you, this IPA is brewed with locally sourced Cascade Hops and a few drops of a sketchy chemical we promise will cure some virus that doesn't really exist. Remember, you can't drink beer with a mask on!
KonservativeMajority Kolsch: Gotta be honest, we got a lot of pressure to lock this down at the last minute so it might not taste any good, but if we know one thing, it's bad for women.
Deplorables has great daily specials from 3pm to 5pm on our "Make Your Early Evening Hours Happy Again" menu. If you show your NRA membership card, you'll enjoy a 5% discount—10% if you're concealed carrying! We also have live music every Friday night from Rose City Madhouse, Portland's second most popular Ted Nugent cover band.
So come on down to Deplorables! And tell your friends – just like the president, we're a little worried we won't make it to 2021.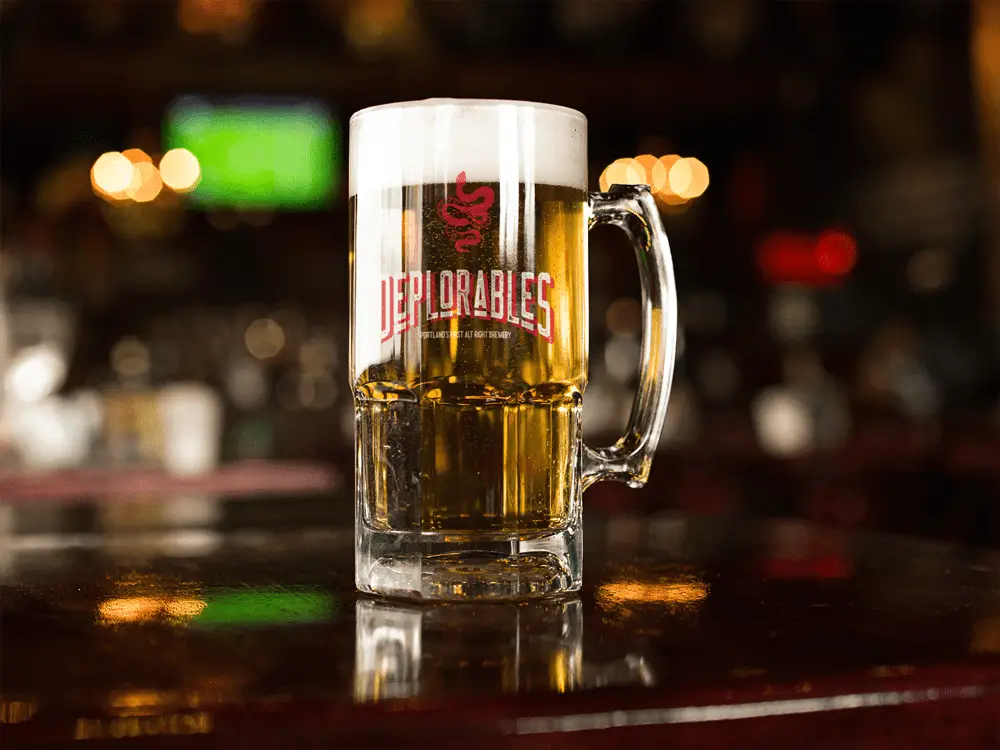 https://weeklyhumorist.com/wp-content/uploads/2020/10/alt-right-feat.png
330
432
Gracie Beaver-Kairis
https://weeklyhumorist.com/wp-content/uploads/2018/04/WH-color-logo-pattern-b.png
Gracie Beaver-Kairis
2020-10-29 19:42:34
2020-10-29 19:42:34
Welcome to Deplorables: Portland's First Alt-Right Craft Brewery